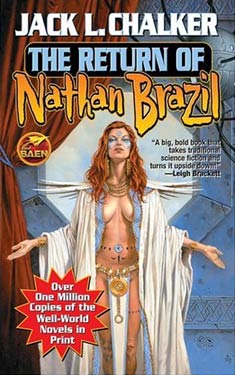 The Return of Nathan Brazil
Synopsis
The Dreel was a hive-mind, composed of trillions of virus-sized units, which infected intelligent beings like a disease and took over their minds. It was on its way to conquering the entire galaxy - until those whose minds were still free fought back, using a weapon so powerful that it wrought havoc with the Well World, the ancient planet-sized supercomputer that a vanished super-race called the Markovians built to maintain the form of the entire universe.
If the Well World's control of time and space could not be restored, the universe could vanish like a blown-out candle flame. Only a Markovian could go to the Well World and repair the damage, but only one Markovian was still known to survive. He had last been seen in human form, going by the name of Nathan Brazil. No one knew where he was now, what name he was using, or even if he still appeared human. Finding him, somewhere in the immensity of the galaxy, seemed an impossible task.
So the task fell to someone who had done the impossible over and over: Mavra Chang, one of the few beings ever to escape from the Well World, and owner of Obie, who just might be the second most powerful computer in the universe. With those two on his trail, Nathan Brazil could run-but could he hide?
Excerpt
No excerpt currently exists for this novel. Be the first to submit one!

Submit an Excerpt
Reviews
Images
No alternate cover images currently exist for this novel. Be the first to submit one!