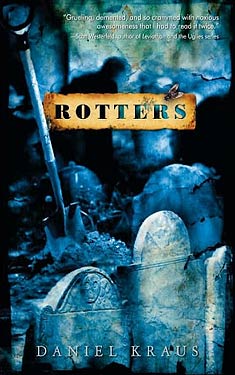 Synopsis
Grave-robbing. What kind of monster would do such a thing? It's true that Leonardo da Vinci did it, Shakespeare wrote about it, and the resurrection men of nineteenth-century Scotland practically made it an art. But none of this matters to Joey Crouch, a sixteen-year-old straight-A student living in Chicago with his single mom. For the most part, Joey's life is about playing the trumpet and avoiding the daily humiliations of high school.
Everything changes when Joey's mother dies in a tragic accident and he is sent to rural Iowa to live with the father he has never known, a strange, solitary man with unimaginable secrets. At first, Joey's father wants nothing to do with him, but once father and son come to terms with each other, Joey's life takes a turn both macabre and exhilarating.
Daniel Kraus's masterful plotting and unforgettable characters make Rotters a moving, terrifying, and unconventional epic about fathers and sons, complex family ties, taboos, and the ever-present specter of mortality.
Excerpt
1.
My father's name was Ken Harnett. I was told by my caseworker from the Department of Children and Family Services that she had tracked him down in a small town in Iowa not far from the Mississippi River, not even five hours away from Chicago. My caseworker, a young woman named Claire, was proud of the discovery. When she had told me after my mother's funeral that she was giving top priority to the search, it had sounded like one of those things she was required to say. I think I nodded and maybe even smiled. It never occurred to me that Claire would succeed. I don't think it occurred to her, either.
I tried to imagine what he looked like; I subtracted my mother's features from my own. The exercise was not only futile, it was boring. I didn't care. He was not real, at least not to me. Even the name felt fabricated. My last name was Crouch. I knew no Harnetts and had never met anyone named Ken. Such thoughts compelled me to fish out my passport and consider the moronic face staring back at me. I'd had the passport all my life, a childhood gift that made little sense; perhaps there had been a time when my mother had fantasized that we might leave the confines not only of the city but of the country as well. Over the years, I had taken it upon myself to renew the passport as a personal promise that I would not turn out like her, that one day I would see the world, any world. If I used it now, right now, maybe I could escape this faceless father.
Claire was assigned to my case the same day that my mother went under all eight wheels of the bus. Death was instantaneous, though the paperwork wasn't signed until about noon. Around dinnertime, the intercom buzzed and I asked who was there and it was a woman's voice that was not my mother's. Our speaker was crap, so I went downstairs to see who it was and it was a pretty Asian girl with a pixie cut and purple fingernails, possibly still in her twenties, and suddenly it didn't matter if she was homeless or a Jehovah's Witness or planned on pressing a knife to my throat. All I could think of was how stupid I looked with my Kool-Aid-stained tee and pleated shorts. Not that my attire mattered much: I was short and scrawny and not anyone people spent time looking at, and I knew I was kidding myself that this female, any female, saw me as anything but a blur of pimpled flesh and uncooperative brown hair. "Your mother has died," she said. She said it before introducing herself, and I couldn't help considering my reaction almost abstractly. There was an attractive young woman at my door; masculine protocol required that I not cry. It was tough, and got tougher as the night progressed, and I found myself wishing that Claire were less cute, much older, and had, for instance, a mustache.
Claire attended the wake and the funeral. I guess it was part of her job. My best friend, Boris Watson, met her for the first time there, and was as disheartened as I by her inappropriate good looks. The two of them shook hands, her grip businesslike and warm, his limp and humiliated, and I realized that, with my mother gone, this mismatched pair was all I had left. It did not bode well that their handshake was short, their conversation strained and doomed.
The service took place at our usual church with our usual pastor--my mother had taken me there almost every Sunday of my life. I don't know who arranged the funeral details and chose the casket or where exactly the money came from to pay for the service and flowers. Claire surely knew; maybe Boris knew, too. I was steered around, sometimes literally by the shoulders, from a hospital morgue to Boris's living room to a dreary Italian restaurant and back to Boris's, and on and on until it was two days later and there was my mother in her casket. I first caught sight of her face from the corner of my eye and it was like noticing someone you didn't expect to see. Behind me, Boris and the rest of the Watsons kept their distance. The funeral home doors would remain closed for another twenty minutes; this time belonged solely to the family, and that meant me. Red carpet led me to her. She was fantastically still and her cheeks lay unnaturally flat. On those cheeks was far too much makeup--the only freckles I could see were in a patch below her throat.
A few seconds of this was enough. I craned my neck. That spider bobbing in that ceiling cobweb--there was more life there than in this expensive silver box, and I devoured its every detail, the delicate probe of the spider's leg, the responding sink and shine of its net. It was a talent of mine, or a problem, depending on whom you asked, to obsess about trivial details during stressful situations. In fourth grade a school therapist called it an avoidance technique. My mom, who didn't mind it so much, had dubbed it "specifying." Once, in a doctor's office, as the old man ran through the grim details of my impending tonsillectomy, my mom caught me specifying toward the floor. As we left, she didn't ask me about the procedure. Instead she asked me about the doctor's shoes, their color, the number of lace holes, and their general condition. I could not help smiling and responding--
--greenish black--
--twelve--
--ratty as hell--
The skill hadn't come from nowhere. My friendship with Boris aside, my mother and I had lived in solitude as hermetic as it was mysterious. Fiercely dependent upon her from an early age, I was seized by anxiety when she was even a few minutes late coming home from work. To distract myself I would concentrate--on the insectile innards of lightbulbs, the landscapes of dust on the blinds, the caricatures hiding within the ceiling spackle--and when she arrived, I could recite to her every last detail. She applauded and encouraged this practice, but for me it came far too easily. There were plenty of things in life I wanted to forget. By the time I was nine or ten, I considered specifying a curse.
At the request of the Watsons, and with Claire's recommendation to her department, I was placed with Boris's family until other arrangements could be made. Boris stood beside me during the endless handshaking of the wake and sat next to me at the funeral. When the graveside service was over and people were filing away, Boris was the one who told me that I needed to touch the casket. "Just put your hand on it," he said. I didn't see why it was important. "Now, dumbass," he hissed. "I did it when my grandma died. Trust me." People were squeezing past us; it was my only chance. I leaned over and touched the casket with two fingers. The solidity of the hard surface was unexpectedly reassuring, and I pressed my entire palm flat against the beveled corner. I could feel through my hand the thunder of the exiting crowd. These vibrations were life, and for a moment my mother was part of it. I let it last for several seconds. It was the first time I had touched a casket and I presumed it would be the last. I was wrong, of course--I would touch hundreds, and soon.
Copyright © 2011 by Daniel Kraus
Reviews
Images
No alternate cover images currently exist for this novel. Be the first to submit one!