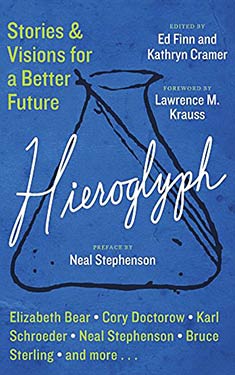 Hieroglyph: Stories and Visions for a Better World
Synopsis
Inspired by New York Times bestselling author Neal Stephenson, an anthology of stories, set in the near future, from some of today's leading writers, thinkers, and visionaries that reignites the iconic and optimistic visions of the golden age of science fiction.
In his 2011 article "Innovation Starvation," Neal Stephenson argued that we--the society whose earlier scientists and engineers witnessed the airplane, the automobile, nuclear energy, the computer, and space exploration -- must reignite our ambitions to think boldly and do Big Stuff. He also advanced the Hieroglyph Theory which illuminates the power of science fiction to inspire the inventive imagination: "Good SF supplies a plausible, fully thought-out picture of an alternate reality in which some sort of compelling innovation has taken place."
In 2012, Arizona State University established the Center for Science and the Imagination to bring together writers, artists, and creative thinkers with scientists, engineers, and technologists to cultivate and expand on "moon shot ideas" that inspire the imagination and catalyze real-world innovations.
Now comes this remarkable anthology uniting twenty of today's leading thinkers, writers, and visionaries--among them Cory Doctorow, Gregory Benford, Elizabeth Bear, Bruce Sterling, and Neal Stephenson--to contribute works of "techno-optimism" that challenge us to dream and do Big Stuff. Engaging, mind-bending, provocative, and imaginative, Hieroglyph offers a forward-thinking approach to the intersection of art and technology that has the power to change our world.
Contents:
Foreword (Hieroglyph: Stories and Visions for a Better Future) - essay by Lawrence M. Krauss
Preface: Innovation Starvation (Hieroglyph: Stories and Visions for a Better Future) - essay by Neal Stephenson
Introduction: A Blueprint for Better Dreams - essay by Ed Finn and Kathryn Cramer
Atmosphaera Incognita - (2013) - shortfiction by Neal Stephenson
Girl in Wave: Wave in Girl - shortfiction by Kathleen Ann Goonan
By the Time We Get to Arizona - shortfiction by Madeline Ashby
The Man Who Sold the Moon - shortfiction by Cory Doctorow
Johnny Appledrone vs. the FAA - shortfiction by Lee Konstantinou
Degrees of Freedom - shortfiction by Karl Schroeder
Two Scenarios for the Future of Solar Energy - shortfiction by Annalee Newitz
A Hotel in Antarctica - shortfiction by Geoffrey A. Landis
Periapsis - shortfiction by James L. Cambias
The Man Who Sold the Stars - (2013) - shortfiction by Gregory Benford
Entanglement - shortfiction by Vandana Singh
Elephant Angels - shortfiction by Brenda Cooper
Covenant - short story by Elizabeth Bear
Quantum Telepathy - shortfiction by Rudy Rucker
Transition Generation - shortfiction by David Brin
The Day it All Ended - shortfiction by Charlie Jane Anders
Tall Tower - shortfiction by Bruce Sterling
Science and Science Fiction: An Interview With Paul Davies - interview of Paul Davies (1946-) - interview by unknown
Excerpt
No excerpt currently exists for this novel.
Reviews
Images
No alternate cover images currently exist for this novel.