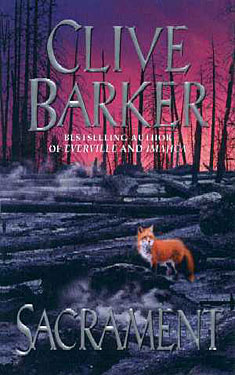 Synopsis
Sacrament is a novel unlike any that Clive Barker has written. Neither horror nor fantasy, though partaking of both, this masterful work plunges far deeper and soars even higher.
It is the story of Will Rabjohns, perhaps the most famous wildlife photographer in the world, who has made his reputation chronicling the fates of endangered species, including his own. For even as Will rises to the pinnacle of his career, he is witnessing his own world the close-knit San Francisco community that has nurtured and liberated him ravaged by AIDS.
Then an almost mystical encounter with a bear in the Arctic leaves Will all but dead. In the depths of his coma, he revisits the wildernesses of his youth in England and relives the terrifying encounter that created him, both as an artist and a man.
Befriended by a mysterious couple, Rosa McGee and Jacob Steep, the young Will is granted the love he has been denied by his own family. But with that love comes a grim education. For while Rosa shows him the cruelties of passion, Jacob teaches him the purities of death seducing him with the possibility that he might one day slaughter the last of a species and thus change the world forever.
When Will stirs from his long sleep, he realizes that this dark dream, which he thought he had put behind him is still very much a part of who he is. Haunted by its echoes and driven by the certainty that he must face Rosa and Jacob one final time, he sets out on a journey of self-discovery a journey that will lead him from the familiar streets of San Francisco, back to the Yorkshire moors and on to the stark beauty of Scotland's Western Isles. There he will penetrate the ultimate mystery The Domus Mundi and finally discover the secret that links his destiny to that of the innumerable creatures with whom we share our planet.
Sacrament is the book Clive Barker's millions of readers knew he had to write someday: the troubling and passionate masterwork from the pen of one of today's most acclaimed authors.
Excerpt
No excerpt currently exists for this novel. Be the first to submit one!

Submit an Excerpt
Reviews
Images
No alternate cover images currently exist for this novel. Be the first to submit one!