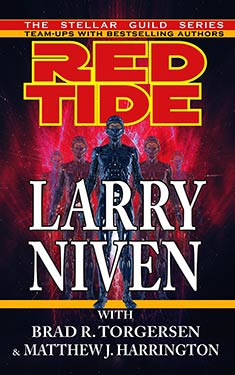 Synopsis
Loosely based on Larry Niven's 1973 novella "Flash Crowd," Red Tide continues to examine the social consequences of the impact of having instantaneous teleportation, where humans can instantly travel long distances in milliseconds.
"Red Tide", by Larry Niven, is an updated version of his 1973 novella "Flash Crowd", about the social consequences of inventing an instant, practically free transfer booth that can take one anywhere on Earth in milliseconds.
One consequence not foreseen by the builders of the system was that with the almost immediate reporting of newsworthy events, tens of thousands of people worldwide - along with criminals - would teleport to the scene of anything interesting, thus creating disorder and confusion. The plot centers around a television journalist who, after being fired for his inadvertent role in inciting a post-robbery riot in Los Angeles, decides to independently investigate the teleportation system for the flaws in its design allowing for such spontaneous riots to occur.
"Dial at Random", a companion novelette also by Niven, steps back in time to when the new, experimental long-distance teleportation system is being tested by its inventor. Something goes terribly awry, and a teenage girl is subjected to a bizarre journey.
"Sparky the Dog" a novelette by Brad R. Torgersen, ties the lives of the journalist and inventor together with a flashback to the early days of the teleportation experiments, when the inventor and his dog went on a wild adventure.
"Displacement Activity" a novelette by Matthew J. Harrington, relates the story of a man accidentally teleported far across the galaxy, where he must adapt into a distant future society where humans are not much better than slaves.
Teleportation is a theme that has fascinated Niven throughout his career and even appears in his seminal work Ringworld, where the central character celebrates his birthday by instantly teleporting himself to different time zones, extending his birthday. Niven also discusses the impact of such instantaneous transportation in an included essay, "Exercise in Speculation: The Theory and Practice of Teleportation."
Excerpt
No excerpt currently exists for this novel. Be the first to submit one!

Submit an Excerpt
Reviews
There are currently no reviews for this novel. Be the first to submit one! You must be logged in to submit a review in the BookTrackr section above.
Images
No alternate cover images currently exist for this novel. Be the first to submit one!