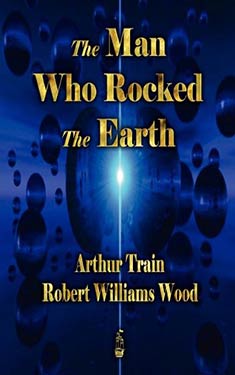 The Man Who Rocked the Earth
Synopsis
The course of World War One is interrupted by messages from a mysterious Scientist known only as PAX, who is threatening superscientific punishments if the war is not stopped. After some demonstrations, featuring Rays, a flying ship, atomic energy and the slowing of Earth's orbit, which causes vast earthquakes, the nations obey; unfortunately, PAX turns Mad Scientist, but dies before he can turn Europe into an Arctic wilderness.
This novel is notable for describing what an atomic detonation would look like in 1915, thirty years before the United States detonated the first atomic bomb.
Excerpt
By July 1, 1916, the war had involved every civilized nation upon the globe except the United States of North and of South America, which had up to that time succeeded in maintaining their neutrality. Belgium, Holland, Denmark, Switzerland, Poland, Austria Hungary, Lombardy, and Servia, had been devastated. Five million adult male human beings had been exterminated by the machines of war, by disease, and by famine. Ten million had been crippled or invalided. Fifteen million women and children had been rendered widows or orphans. Industry there was none. No crops were harvested or sown. The ocean was devoid of sails. Throughout European Christendom women had taken the place of men as field hands, labourers, mechanics, merchants, and manufacturers. The amalgamated debt of the involved nations, amounting to more than $100,000,000,000, had bankrupted the world. Yet the starving armies continued to slaughter one another.
Copyright © 1915 by Robert W. Wood
Copyright © 1915 by Arthur Train
Reviews
There are currently no reviews for this novel. Be the first to submit one! You must be logged in to submit a review in the BookTrackr section above.
Images
No alternate cover images currently exist for this novel. Be the first to submit one!