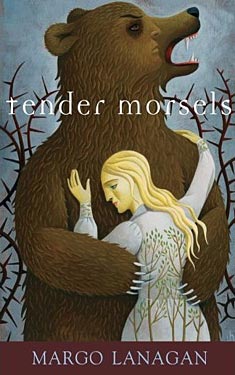 Synopsis
Tender Morsels is a dark and vivid story, set in two worlds and worrying at the border between them. Liga lives modestly in her own personal heaven, a world given to her in exchange for her earthly life. Her two daughters grow up in this soft place, protected from the violence that once harmed their mother. But the real world cannot be denied forever - magicked men and wild bears break down the borders of Liga's refuge. Now, having known Heaven, how will these three women survive in a world where beauty and brutality lie side by side?
Excerpt
Liga's father fiddled with the fire, fiddled and fiddled. Then he stood up, very suddenly.
"I will fetch more wood."
What's he angry about? Liga wondered. Or worried, or something. He is being very odd.
Snow-light rushed in, chilling the house. Then he clamped the door closed and it was cozy again, cozy and empty of him. Liga took a deep private breath then blew it out, slowly. Just these few moments would be her own.
But her next breath caught rough in her throat. She opened her eyes. Gray smoke was cauliflowering out of the fireplace, fogging the air. The smell! What unnamable rubbish had fallen in the fire?
She coughed so hard she must put aside the rush mat she was binding the edge of and give her whole body over to the coughing. Then pain caught her, low, and folded her just like a rush-stalk, it felt, in a line across her belly, crushing her innards. She could hardly get breath to cough. Sparks that were not from the fire jiggled and swam in her eyes - she could not see the fire for the smoke. She could not believe what she was feeling.
The pain eased just as abruptly. It let her get up. It gave her a moment to stagger to the door and open it, her insides dangerous, liquid, hot with surprise and readying to spasm again.
Her father was halfway back from the woodpile, his arms full. He bared his teeth at her, no less. "What you doing out?" White puffs came with the words. "Get back inside. Who said you could come out?"
"I cannot breathe in there." The cold air dived down her throat and she coughed again.
"Then go in and don't breathe! Shut the door - you're letting the smoke out. You're letting the heat." He dropped the wood in the snow.
"Has the chimney fallen in? Or what is it?" She wanted to step farther out and look.
But he sprang over the logs and ran at her. She was too surprised to fight him, and her insides were too delicate. The icicled edge of the thatch swept down across the heavy sky, and she was on the floor, the door slammed closed above her. It was dark after the snow-glare, the air thick with the billowing smoke. Outside, he shouted - she could not hear the words - and hurled his logs one by one at the door.
She pressed her nose and mouth into the crook of her elbow, but she had already gulped smoke. It sank through to her deepest insides, and there it clasped its thin black hands, all knuckles and nerves, and wrung them, and wrung them.
Time stretched and shrank. She seemed to stretch and shrink. The pain pressed her flat, the crashing of the wood. Da muttered out there, muttered forever; his muttering had begun before her thirteen years had, and she would never hear the end of it; she must simply be here while it rose from blackness and sank again like a great fish into a lake, like a great water snake. Then Liga's belly tightened again, and all was gone except the red fireworks inside her. The smoke boiled against her eyes and fought in her throat.
The pains resolved themselves into a movement, of innards wanting to force out. When she next could, she crawled to the door and threw her fists, her shoulder, against it. Was he out there anymore? Had he run off and left her imprisoned? "Let me out or I will shit on the floor of your house!"
There was some activity out there, scraping of logs, thuds of them farther from the door. White light sliced into the smoke. Out Liga blazed, in a dirty smoke-cloud, clambering over the tumbled wood, pushing past him, pushing past his eager face.
But it was too late for the cold, clean air to save her; her insides had already come loose. She could not run or she would shake them out. Already they were drooling down her legs. She must clamp her thighs together to hold them in, and yet walk, and yet hurry, to the part of the forest edge they used for their excrements.
She did not achieve it. She fell to her knees in the snow. Inside her skirt, so much of her boiling self fell away that she felt quite undone below the waist, quite shapeless. No, look: sturdy hips. Look: a leg on either side. A blue-gray foot there, the other there. Gingerly, Liga sat back in a crouch to lift her numbing knees off the snow. The black trees towered in front of her, and the snow dazzled all around. She heaved and brought up nothing but spittle, but more of her was pushed out below by the heaving.
She crouched, panting. From her own noises she knew she had become some kind of animal; she had fallen as low as she could from the life she had had before Mam died. Everything had slid from there, out of prosperity, out of town, out of safety, when Mam went, and this was where of course it ended, with Liga an animal in the snow, tearing herself to pieces with the wrongness of everything.
With one last heave, her remaining insides dropped out of her. She knelt over their warmth, folded herself down, and waited to die.
But she did not die there. The snow pained against her forehead and her knees, and the fallen mass of her innards began to lose its heat in the tent of her skirt.
She tried to lift herself off it. At first her knees would not unbend, so she tipped herself forward onto her front... paws, they felt like, her front claws. And hoisted her bottom up from there.
"Oh, my Gracious Lady." Her voice sounded drunken and flat. Between pink footprints, her innards lay glossy and dark red. Her feet were purple, blotched yellow, weak and wet with melting pink snow.
She should go back to the house - that was all she knew. And so she labored towards it, top-heavy, slick-thighed, numb-footed, and hollow, glancing behind as if afraid the thing would follow her, along its own pink trail.
Da snatched the door open as soon as she touched it. He stood there, hands on hips. "What's a-matter with you?" The air around him was clear and warm; in the crook of his arm, the fire flowed brightly up around the new logs. Would he even let her in?
Copyright © 2008 by Margo Lanagan
Reviews
Images
No alternate cover images currently exist for this novel.