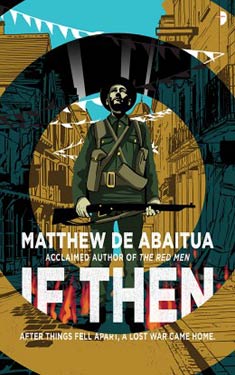 Synopsis
James has a scar in the back of his head. It's where he was wounded in the Battle of Suvla Bay on August 1915. Or is the scar the mark of his implant that allows the Process to fill his mind with its own reality?
In IF, the people of a small English town cling on after everything fell apart under the protection of the Process, the computer system that runs every aspect of their lives. But sometimes people must be evicted from the town. That's the job of James, the bailiff. While on patrol, James discovers the replica of a soldier from the First World War wandering the South Downs. This strange meeting begins a new cycle of evictions in the town, while out on the rolling downland, the Process is methodically growing the soldiers and building the weapons required to relive a long lost battle.
In THEN, it is August 1915, at the Battle of Suvla Bay in the Dardanelles campaign. Compared to the thousands of allied soldiers landing on this foreign beach, the men of the 32nd Field Ambulance are misfits and cranks of every stripe: a Quaker pacifist, a freethinking padre, a meteorologist, and the private (once a bailiff) known simply as James. Exposed to constant shellfire and haunted by ghostly snipers, the stretcher-bearers work day and night on the long carry of wounded men. One night they stumble across an ancient necropolis, disturbed by an exploding shell. What they discover within this ancient site will make them question the reality of the war and shake their understanding of what it means to be human...
Excerpt
No excerpt currently exists for this novel.
Reviews
Images
No alternate cover images currently exist for this novel.