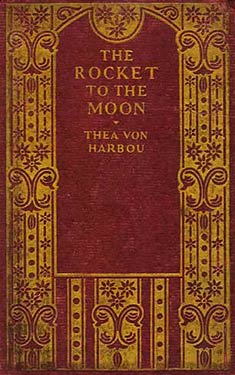 Synopsis
Helius is an entrepreneur with an interest in space travel. He seeks out Professor Mannfeldt, a visionary who has written a treatise on the likelihood of finding gold on the moon, only to be ridiculed by his peers. Helius recognizes the value of Mannfeldt's work, but a gang of evil businessmen, intent on controling the world's gold reserves, have also taken an interest in Mannfeldt's theories.
Meanwhile, Helius's assistant Windegger has announced his engagement to Helius's other assistant, Friede. This is disconcerting to Helius, who secretly loves Friede, so he avoids their engagement party. He is mugged on the way home from his meeting with Mannfeldt by henchmen of the evil businessmen, commanded by an American, Walter Turner. They steal the research that Professor Mannfeldt had entrusted to him and also burgle Helius's home, taking other valuable material. They then present him with an ultimatum: they know he is planning a voyage to the moon; either he includes them in the project, or they will sabotage it and destroy his rocket. Reluctantly, Helius agrees to their terms.
The rocket team is assembled: Helius, Mannfeldt, Windegger, Friede and Turner, who represents the interests of the evil businessmen. After the rocket blasts off, they discover that Gustav, a young boy who has befriended Helius, is aboard as a stowaway with his collection of science fiction pulp magazines. During the journey, Windegger emerges as a coward, and the feelings of Helius toward Friede become known to her, creating a romantic triangle.
Once they get to the far side of the Moon, Mannfeldt and Turner prove Mannfeldt's theory that there is gold on the moon. They struggle in a cave, and Mannfeldt falls to his death in a crevasse. Turner attempts to hijack the rocket, and in the struggle, he is shot and killed. Gunfire damages the oxygen tanks, and they come to the grim realization that there is not enough oxygen for all to make the return trip. One person must remain on the moon, in it's breathable atmosphere on the far side.
Helius and Windegger draw straws to see who must stay and Windegger loses. Seeing Windegger's anguish, Helius decides to drug Windegger and Friede with a last drink together and take Windegger's place, letting Windegger return to Earth with Friede. Friede senses that something is in the wine. She pretends to drink and then retires to the compartment where her cot is located, closes and locks the door. Windegger drinks the wine, becoming sedated. Helius makes Gustav his confidant and the new pilot for the ship. Helius counts down the time for the ship's liftoff from a distance away. He watches it depart. He realizes that he is alone on the moon. As he lowers his head and resignedly starts to move towards the survival camp originally prepared for Windegger, Helius discovers that Friede has decided to stay with him on the moon. He throws his arms wide as Friede runs to him. They embrace.
Also published as The Girl in the Moon.
Excerpt
No excerpt currently exists for this novel. Be the first to submit one!

Submit an Excerpt
Reviews
There are currently no reviews for this novel. Be the first to submit one! You must be logged in to submit a review in the BookTrackr section above.
Images
No alternate cover images currently exist for this novel. Be the first to submit one!