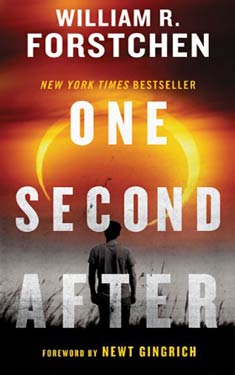 Synopsis
New York Times best selling author William R. Forstchen now brings us a story which can be all too terrifyingly real... a story in which one man struggles to save his family and his small North Carolina town after America loses a war, in one second, a war that will send America back to the Dark Ages... A war based upon a weapon, an Electro Magnetic Pulse (EMP). A weapon that may already be in the hands of our enemies.
Months before publication, One Second After has already been cited on the floor of Congress as a book all Americans should read, a book already being discussed in the corridors of the Pentagon as a truly realistic look at a weapon and its awesome power to destroy the entire United States, literally within one second. It is a weapon that the Wall Street Journal warns could shatter America. In the tradition of On the Beach, Fail Safe and Testament, this book, set in a typical American town, is a dire warning of what might be our future... and our end.
Excerpt
Chapter One
BLACK MOUNTAIN, NORTH CAROLINA, 2:30 EDT
John Matherson lifted the plastic bag off the counter.
"You sure I have the right ones?" he asked.
Nancy, the owner of the shop, Ivy Corner, smiled. "Don't worry, John; she already had them picked out weeks ago. Give her a big hug and kiss for me. Hard to believe she's twelve today."
John sighed and nodded, looking down at the bag, stuffed with a dozen Beanie Babies, one for each year of Jennifer's life, which started twelve years ago this day.
"Hope she still wants these at thirteen," he said. "God save me when that first boy shows up at the door wanting to take her out."
The two laughed, Nancy nodding in agreement. He was already enduring that with Elizabeth, his sixteen- year- old, and perhaps for that, and so many other reasons as well, he just wished that he could preserve, could drag out, just for a few more days, weeks, or months the precious time all fathers remember fondly, when they still had their "little girl."
It was a beautiful spring day, the cherry trees lining the street in full bloom, a light shower of pink petals drifting on the wind as he walked up the street, past Doc Kellor's office, the antique stores, the new, rather Gothic- looking art gallery that had opened last month, the usual curio shops, and even an old- style ice- cream parlor... at a dollar fifty a scoop. Next up the street was Benson's Used and Rare Books. John hesitated, wanted to go in just for a few minutes, then pulled out his cell phone to check the time.
Two thirty. Her bus would be rolling in at three, no time today to go in, have a cup of coffee, and talk about books and history. Walt Benson saw him, held up a cup, gesturing for John to join him. He shook his head, pointed to his wrist even though he never wore a watch, and continued to walk up to the corner to where his Talon SUV was parked in front of Taylor's Hardware and General Store.
John paused and looked back down the street for a moment.
I'm living in a damn Norman Rockwell painting, he thought yet again, for the thousandth time.
Winding up here... he never imagined it, never planned for it, or even wanted it. Eight years back he was at the Army War College, Carlisle, PA, teaching military history and lecturing on asymmetrical warfare, and waiting to jump the hoop and finally get his first star.
And then two things happened. His promotion came through, with assignment to Brussels as a liaison to NATO, a rather nice posting to most likely end out his career... and then Mary had returned from the doctor's several days after the promotion, her face pale, lips pressed tight, and said four words: "I have breast cancer."
The commandant at Carlisle, Bob Scales, an old friend who had stood as godfather for John's Jennifer, understood the request he then laid before him. John would take the promotion, but could it be to the Pentagon? It'd place them nearby to Johns Hopkins, and not too far from Mary's family.
It didn't work. Cutbacks were hitting as it was, oh, there was great sympathy from upstairs, but he had to take Brussels if he wanted the star and maybe a year later they'd find a slot for him stateside.
After talking to Mary's doctor... John resigned. He would take her back home to Black Mountain, North Carolina, which was what she wanted and the cancer treatment center at Chapel Hill would be nearby.
Bob's connections were good, remarkably good, when John first mentioned Black Mountain. A single phone call was made; the old- boy network, though disdained as politically incorrect, did exist and it did help at times when needed. The president of Montreat College, North Carolina, in Mary's hometown, did indeed "suddenly" need an assistant director of development. John hated development and admissions work but survived fit until finally a tenure- track professorship in history opened four years back and he was slotted in.
The fact that the president of the college, Dan Hunt, owed his life to Bob Scales, who had dragged him out of a minefield back in 1970, was a definite mark in John's favor that could not be ignored between friends. Dan had lost his leg, Bob got another of his Bronze Stars for saving him, and the two had been buddies ever since, each looking out, as well, for those whom the other cared for.
So Mary got to go home, after twenty years of following John from Benning, to Germany, to Okinawa, sweating out Desert Storm, from there to the Pentagon, then a year, a wonderful year, at West Point and then three more wonderful years teaching at Carlisle. At heart he was a history teacher, and maybe whichever bastard in the personnel office at the Pentagon had nixed John's request to stay stateside had done him a favor.
So they came home to Black Mountain, North Carolina. He did not hesitate one second in granting her wish, resigning his commission and promotion and moving to this corner of the Carolina mountains.
He looked back down Main Street, frozen for a moment in time and memories. Mary would be gone four years next week, her last time out a slow, exhausting walk down this street, which as a girl she had run along.
It was indeed a Norman Rockwell town. That final walk down this street with her, everyone knew her, everyone knew what was happening, and everyone came out to say hi, to give her a hug, a kiss, all knowing it was farewell but not saying it. It was a gesture of love John would never forget.
He pushed the thought aside. It was still too close and Jennifer's bus would be pulling up in twenty minutes.
He got into his Talon, started it up, turned onto State Street, and headed east. He did love the view as State Street curved through town, past yet more shops, nearly all the buildings redbrick, dating back to the turn of the century.
The village had once been a thriving community, part of the tuberculosis sanitarium business. When the railroad had finally pierced the mountains of western North Carolina in the early 1880s some of the first to flood in were tuberculosis victims. They came by the thousands, to the sanitariums that sprang up on every sunlit mountain slope. By the early twenties there were a dozen such institutions surrounding Asheville, the big city situated a dozen miles to the west of Black Mountain.
And then came the Depression. Black Mountain remained frozen in time, and then came antibiotics right after the war and the sanitariums emptied out. And all those wonderful buildings, which in other towns would have given way to shopping plazas and strip malls, had remained intact, progress passing Black Mountain by.
Now there were conference centers for various churches and summer camps for kids where the sanitariums had been. His own college had been founded at such a site up in what everyone called the Cove. A small college, six hundred kids, most of them from small towns across the Carolinas and a few from Atlanta or Florida. Some of the kids were freaked out by the relative isolation, but most of them grudgingly admitted they loved it, a beautiful campus, a safe place, an old logging trail across the edge of the campus leading straight on up to Mount Mitchell, good white water nearby for kayaking, and plenty of woods to disappear into for partying for some of them, to get around the fairly strict campus rules.
The town itself finally revived, starting in the 1980s, but wonderfully, the charming turn- of- the- century look was maintained, and in the summer and fall the streets would be crammed with tourists and day- trippers coming up from Charlotte or Winston- Salem to escape the boiling heat of the lowlands, joined by hundreds of summer "cottagers" who lived in the Cove, many of the cottages darn near mansions for some of the older wealth of the South.
That had been Mary's family, Old South and wealth. Me-ma Jennie, Mary's mother and Jennifer's namesake, still hung on doggedly to their home up in the Cove, refusing to consider moving, even though "Papa" Tyler was now in a nearby nursing home, in the final stages of cancer.
John continued to drive east, the traffic on Interstate 40, coming up through the Swannanoa Gap, roaring by on his left. The old- timers in the town still expressed their hatred of that "darn road." Before it came in, Black Mountain was a sleepy southern mountain hamlet. With the road had come development, traffic, and the foods of tourists on weekends that the chamber of commerce loved and everyone else tried to tolerate.
Staying on the old highway that paralleled the interstate, John drove for less than a mile out of town, then turned right onto a dirt road that twisted up the side of a hill overlooking the town. The old mountain joke used to be "you know you're getting directions to a mountain home when they say, 'Turn onto the dirt road.' "
For a kid from New Jersey, John still got a bit of a kick out of the fact that he did indeed live in the South, on the side of a mountain, halfway up a dirt road, with a view worth a million bucks.
The home he and Mary had purchased was in one of the first new developments in the area. In a county where there was no zoning, the lower part of the hill had several trailers, an old shack where Connie Yarborough, a wonderful down- the- hill neighbor, still did not have electricity or town water, and next to her was an eccentric Volkswagen repair shop... the owner, Jim Bartlett, a true sixties throwback, his lot littered with dozens of rusting Beetles, vans, and even a few precious VW Buses and Karmann Ghias.
The house (Mary and John actually named Rivendell, because of their mutual love of Tolkien) offered a broad sweeping view of the valley below; the skyline of Asheville was in the distance, framed by the Great Smoky Mountains beyond, facing due west so Mary could have her sunsets.
When trying to describe the view he'd just tell friends, "Check out Last of the Mohicans; it was filmed a half hour from where we live."
It was a fairly contemporary-looking type of home, high ceiling, the west wall, from bedroom...
Copyright © 2009 by William R. Forstchen
Reviews
Images
No alternate cover images currently exist for this novel. Be the first to submit one!