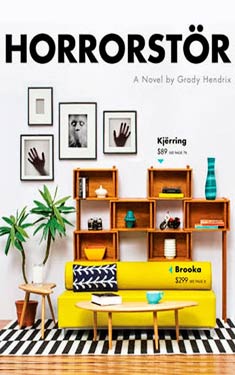 Synopsis
Something strange is happening at the Orsk furniture superstore in Cleveland, Ohio. Every morning, employees arrive to find broken Kjerring bookshelves, shattered Glans water goblets, and smashed Liripip wardrobes. Sales are down, security cameras reveal nothing, and store managers are panicking.
To unravel the mystery, three employees volunteer to work a nine-hour dusk-till-dawn shift. In the dead of the night, they'll patrol the empty showroom floor, investigate strange sights and sounds, and encounter horrors that defy the imagination.
A traditional haunted house story in a thoroughly contemporary setting, Horrorstör comes packaged in the form of a glossy mail order catalog, complete with product illustrations, a home delivery order form, and a map of Orsk's labyrinthine showroom. It's "a treat for fans of The Evil Dead or Zombieland, complete with affordable solutions for better living."--Kirkus Reviews.
Excerpt
It was dawn and the zombies were stumbling through the parking lot, streaming toward the massive beige box at the far end. Later they would be resurrected by megadoses of Starbucks, but for now they were the barely living dead. Their causes of death differed: hangovers, nightmares, strung out from epic on-line gaming sessions, circadian rythms broken by late-night TV, children who couldn't stop crying, neighbors partying till 4 a.m., broken hearts, unpaid bills, roads not taken, sick dogs, deployed daughters, ailing parents, midnight ice cream binges.
But evey morning, five days a week (seven during the holidays), they dragged themselves here, to the one thing in their lives that never changed, the one thing they could count on come rain, or shine, or dead pets, or divorce: work.
Orsk was the all-American furniture superstore in Scandinavian drag, offering well-designed lifestyles at below-Ikea prices, and its forward-thinking slogan promised "a better life for everyone." Especially for Orsk shareholders, who treked to company headquarters in Milwaukee, Wisconsin, every year to hear how their chain of Ikea knockoff stores was earning big returns. Orsk promised customers "the everything they needed" in the every phase of their lives, from Balsak cradles to Gutelov rocking chairs. The only thing they didn't offer was coffins. Yet.
Orsk was an enormous heart pumping 318 partners - 228 full-time, 90 part-time - through its ventricles in a ceaseless circular flow. Every morning, floor partners poured in to swipe their IDs, power up their computers, and help customers size the Knabble cabinets, find the most comfortable Muskk beds, and source exactly the right Lagnia water glasses. Every afternoon, replenishment partners, flowed in and restocked the Self-Service Warehouse, pulled the picks, refilled the inpulse bins, and hauled pallets onto the Market Floor. It was a perfect system, precision-engineered to offer optimal retail functionallity in all 112 Orsk locations across North America and in its thirty-eight locations around the world.
But on the first Thursday in June at 7:30a.m., at Orsk Location "00108 in Cuyahga County, Ohio, this well-calibrated system came grinding to a halt.
Copyright © 2011 by Grady Hendrix
Reviews
Images
No alternate cover images currently exist for this novel. Be the first to submit one!