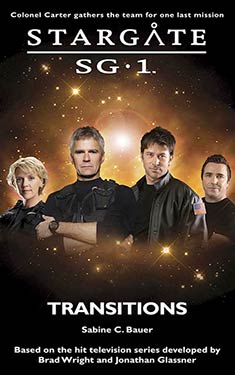 Synopsis
The journey begins
After her mother's death, Cassie Fraiser is moving on. So she thinks. But there are dangerous forces at work and she soon finds herself caught up in a situation far beyond her control. It's a good thing Colonel Carter was keeping an eye on her.
But while Carter rallies SG-1 to Cassie's aid, events on Atlantis are going from bad to worse. Facing a deadly plague and a computer virus that's shutting down the city, it looks like Colonel Sheppard's team will provide rich pickings for the incoming Wraith hive ship.
But sometimes events galaxies apart are connected in unexpected ways-- and help comes from the most surprising of places. In this action-packed story, Sabine C. Bauer brings together the heroes of Stargate SG-1 and Stargate Atlantis in the fight of their lives...
TRANSITIONS
Excerpt
"I repeat, Colonel. What the hell happened?"
"Uh..."
Oh damn, he knew that frown. She was about to techno-babble. Given the way his head felt, he probably wouldn't survive that. "Twenty-five words or less, and no more than three syllables each, Carter!"
"Jack! Sam!" Daniel came climbing over the mounds of rubble, Teal'c in his wake. They looked a little singed around the edges, but otherwise seemed to be in full working order. "You guys okay?" gasped Daniel. "What the hell happened?"
"That's what I'm trying to find out. Carter!"
"When the missile struck the car, the blast took out the gas pumps and set off whatever fuel was left in the underground tanks. Twenty-four words, sir." She grinned. "There was a chance that some of the shrapnel might hit the chopper, but I hadn't actually dared count on it. I guess there was a little more gas in those tanks than I'd thought..."
Copyright © 2011 by Sabine C. Bauer
Reviews
There are currently no reviews for this novel. Be the first to submit one! You must be logged in to submit a review in the BookTrackr section above.
Images
No alternate cover images currently exist for this novel. Be the first to submit one!