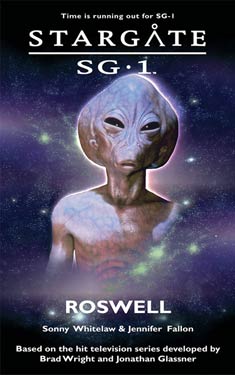 Synopsis
A stitch in time...
When a Stargate malfunction throws Colonel Cameron Mitchell, Dr. Daniel Jackson, Colonel Sam Carter and Teal'c back in time, they only have minutes to live.
But their rescue, by an unlikely duo--General Jack O'Neill and Vala Mal Doran--is only the beginning of their problems. Ordered to rescue an Asgard also marooned in 1947, SG-1 find themselves at the mercy of history.
While Jack, Daniel, Sam and Teal'c become embroiled in the Roswell aliens conspiracy, Cam and Vala are stranded in another timeline, desperately searching for a way home. As the effects of their interference ripple through time, the consequences for the future are catastrophic.
Trapped in the past, SG-1 can only watch as their world is overrun by a terrible invader...
Excerpt
ROSWELL
"You." The lieutenant's nightstick swung around in an arc. He stabbed it in Daniel and Jack's direction as he approached them.
"Who? Us?" Jack said, adopting a well-practiced expression of cluelessness that worked so rarely, Daniel wondered why he bothered to try it on anyone.
"Names!"
Jack smiled disarmingly. "Ah...names. Mulder and Scully."
"Where do you live?"
"Colorado," Daniel replied, before Jack could get too carried away. "We're just passing through town, lieutenant."
"Where ya headed?"
"New York," Daniel said without thinking.
"Kinda taking the scenic route, ain't, ya?"
"But there's so much to see," Jack said. "Little green men, and flying saucers... Oh, and arresting innocent citizens eating in a diner."
"Jack!" Daniel hissed in warning, but it was too late. The damage was done.
The MP's eyes narrowed dangerously. "Wise guy, huh?" The lieutenant grabbed Jack by the arm. "Outside. The both of you. You're coming, too."
Copyright © 2007 by Jennifer Fallon
Copyright © 2007 by Sonny Whitelaw
Reviews
There are currently no reviews for this novel. Be the first to submit one! You must be logged in to submit a review in the BookTrackr section above.
Images
No alternate cover images currently exist for this novel. Be the first to submit one!