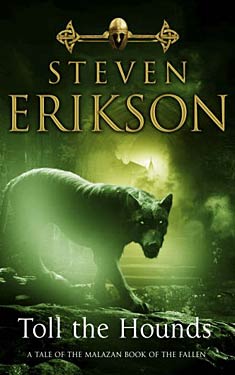 Synopsis
In Darujhistan, the city of blue fire, it is said that love and death shall arrive dancing. It is summer and the heat is oppressive, but for the small round man in the faded red waistcoat, discomfiture is not just because of the sun. All is not well. Dire portents plague his nights and haunt the city streets like fiends of shadow. Assassins skulk in alleyways, but the quarry has turned and the hunters become the hunted.
Hidden hands pluck the strings of tyranny like a fell chorus. While the bards sing their tragic tales, somewhere in the distance can be heard the baying of Hounds...And in the distant city of Black Coral, where rules Anomander Rake, Son of Darkness, ancient crimes awaken, intent on revenge. It seems Love and Death are indeed about to arrive... hand in hand, dancing.
A thrilling, harrowing novel of war, intrigue and dark, uncontrollable magic, Toll the Hounds is the new chapter in Erikson's monumental series - epic fantasy at its most imaginative and storytelling at its most exciting.
Excerpt
Chapter One
Surrounded in a city of blue fire, she stood alone on the balcony. The sky's darkness was pushed away, an unwelcome guest on this the first night of the Gedderone Fete. Throngs filled the streets of Darujhistan, happily riotous, good- natured in the calamity of one year's ending and another's beginning. The night air was humid and pungent with countless scents.
There had been banquets. There had been unveilings of eligible young men and maidens. Tables laden with exotic foods, ladies wrapped in silks, men and women in preposterous uniforms all glittering gilt - a city with no standing army bred a plethora of private militias and a chaotic proliferation of high ranks held, more or less exclusively, by the nobility.
Among the celebrations she had attended this evening, on the arm of her husband, she had not once seen a real officer of Darujhistan's City Watch, not one genuine soldier with a dusty cloak- hem, with polished boots bearing scars, with a sword- grip of plain leather and a pommel gouged and burnished by wear. Yet she had seen, bound high on soft, well- fed arms, torcs in the manner of decorated soldiers among the Malazan army - soldiers from an empire that had, not so long ago, provided for Darujhistan mothers chilling threats to belligerent children. 'Malazans, child! Skulking in the night to steal foolish children! To make you slaves for their terrible Empress - yes! Here in this very city!'
But the torcs she had seen this night were not the plain bronze or faintly etched silver of genuine Malazan decorations and signi.ers of rank, such as appeared like relics from some long- dead cult in the city's market stalls. No, these had been gold, studded with gems, the blue of sapphire being the commonest hue even among the coloured glass, blue like the blue .re for which the city was famous, blue to proclaim some great and brave service to Darujhistan itself.
Her fingers had pressed upon one such torc, there on her husband's arm, although there was real muscle beneath it, a hardness to match the contemptuous look in his eyes as he surveyed the clusters of nobility in the vast humming hall, with the proprietary air he had acquired since attaining the Council. The contempt had been there long before and if anything had grown since his latest and most triumphant victory.
Daru gestures of congratulation and respect had swirled round them in their stately passage through the crowds, and with each acknowledgement her husband's face had grown yet harder, the arm beneath her fingers drawing ever tauter, the knuckles of his hands whitening above his sword- belt where the thumbs were tucked into braided loops in the latest fashion among duellists. Oh, he revelled in being among them now; indeed, in being above many of them. But for Gorlas Vidikas, this did not mean he had to like any of them. The more they fawned, the deeper his contempt, and that he would have been offended without their obsequy was a contradiction, she suspected, that a man like her husband was not wont to entertain.
The nobles had eaten and drunk, and stood and posed and wandered and paraded and danced themselves into swift exhaustion, and now the banquet halls and staterooms echoed with naught but the desultory ministrations of servants. Beyond the high walls of the estates, however, the common folk rollicked still in the streets. Masked and half naked, they danced on the cobbles - the riotous whirling steps of the Flaying of Fander - as if dawn would never come, as if the hazy moon itself would stand motionless in the abyss in astonished witness to their revelry. City Watch patrols simply stood back and observed, drawing dusty cloaks about their bodies, gauntlets rustling as they rested hands on truncheons and swords.
On the balcony where she stood, the fountain of the unlit garden directly below chirped and gurgled to itself, buffered by the estate's high, solid walls from the raucous festivities they had witnessed during the tortured carriage ride back home. Smeared moonlight struggled in the softly swirling pool surrounding the fountain.
The blue fire was too strong this night, too strong even for the mournful moon. Darujhistan itself was a sapphire, blazing in the torc of the world. And yet its beauty, and all its delighted pride and its multitudinous voice, could not reach her tonight.
This night, Lady Vidikas had seen her future. Each and every year of it. There on her husband's hard arm. And the moon, well, it looked like a thing of the past, a memory dimmed by time, yet it had taken her back.
To a balcony much like this one in a time that now seemed very long ago.
Lady Vidikas, who had once been Challice Estraysian, had just seen her future. And was discovering, here in this night and standing against this rail, that the past was a better place to be.
Talk about the worst night yet to run out of Rhivi flatbread. Swearing under her breath, Picker pushed her way through the crowds of the Lakefront market, the mobs of ferociously hungry, drunk revellers, using her elbows when she needed to and glowering at every delirious smile swung her way, and came out eventually at the mouth of a dingy alley heaped ankle- deep in rubbish. Somewhere just to the south of Borthen Park. Not quite the route back to the bar she would have preferred, but the fete was in full frenzy. Wrapped package of flatbread tucked under her left arm, she paused to tug loose the tangles of her heavy cloak, scowled on seeing a fresh stain from a careless passer- by - some grotesque Gadrobi sweetcake - tried wiping it off which only made it worse, then, her mood even fouler, set out through the detritus.
With the Lady's pull, Bluepearl and Antsy had fared better in finding Saltoan wine and were even now back at K'rul's. And here she was, twelve streets and two wall passages away with twenty or thirty thousand mad fools in between. Would her companions wait for her? Not a chance. Damn Blend and her addiction to Rhivi flatbread! That and her sprained ankle had conspired to force Picker out here on the first night of the fete - if that ankle truly was sprained, and she had her doubts since Mallet had just squinted down at the offending appendage, then shrugged.
Mind you, that was about as much as anyone had come to expect from Mallet. He'd been miserable since the retirement, and the chance of the sun's rising any time in the healer's future was about as likely as Hood's forgetting to tally the count. And it wasn't as if he was alone in his misery, was it?
But where was the value in feeding her ill temper with all these well- chewed thoughts? Well, it made her feel better, that's what.
Dester Thrin, wrapped tight in black cloak and hood, watched the big- arsed woman kicking her way through the rubbish at the other end of the alley. He'd picked her up coming out of the back door of K'rul's Bar, the culmination of four nights positioned in the carefully chosen, darkness- shrouded vantage point from which he could observe that narrow postern.
His clan- master had warned that the targets were all ex- soldiers, but Dester Thrin had seen little to suggest that any of them had kept .t and trim. They were old, sagging, rarely sober, and this one, well, she wore that huge, thick woollen cloak because she was getting heavy and it clearly made her self- conscious.
Following her through the crowds had been relatively easy - she was a head taller than the average Gadrobi, and the route she took to this decrepit Rhivi market in Lakefront seemed to deliberately avoid the Daru streets, some strange affectation that would, in a very short time, prove fatal.
Dester's own Daru blood had permitted him a clear view of his target, pushing purposefully through the heaving press of celebrants.
He set out to traverse the alley once his target exited at...
Copyright © 2008 by Steven Erikson
Reviews
Images
No alternate cover images currently exist for this novel.