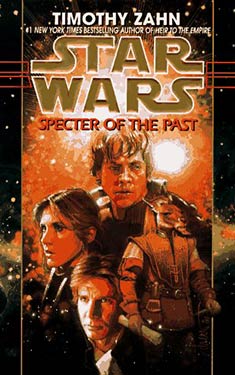 Synopsis
Once the unquestioned master of countless solar systems, the Empire is tottering on the brink of total collapse. Once commanding an invincible armada of Star Destroyers, its fleet has been reduced to a skeleton force. Day by day, neutral systems are rushing to join the New Republic coalition. But with the end of the war in sight, the New Republic has fallen victim to its own success. An unwieldy alliance of races and traditions, the confederation now finds itself riven by age-old animosities.
Princess Leia struggles against all odds to hold the New Republic together. But she has powerful enemies. An ambitious Moff Disra leads a conspiracy to divide the uneasy coalition with an ingenious plot to blame the Bothans for a heinous crime that could lead to genocide and civil war. At the same time, Luke Skywalker, along with Lando Calrissian and Talon Karrde, pursues a mysterious group of pirate ships whose crews consist of clones. And then comes the most startling news of all: Grand Admiral Thrawn--believed to be dead for ten years--is reported alive. The most cunning and ruthless warlord in Imperial history has seemingly returned to lead the Empire to triumph.
As Han and Leia try to prevent the unraveling of the New Republic in the face of this fearful and inexplicable threat from the past, Luke sets out to track down the rogue pirate ships. To do so, he will team up with Mara Jade, with whom he will share his growing mastery of the Force and the ever-present threat of the dark side. All the while, lurking in the shadows is the enigmatic Major Tierce, a disciple of Emperor Palpatine, sharing his long-dead master's lust for power, schooled in the devious stratagems of Thrawn himself, and armed with his own dark plans for the New Republic and the Empire.
Excerpt
No excerpt currently exists for this novel.
Reviews
There are currently no reviews for this novel. Be the first to submit one! You must be logged in to submit a review in the BookTrackr section above.
Images
No alternate cover images currently exist for this novel.