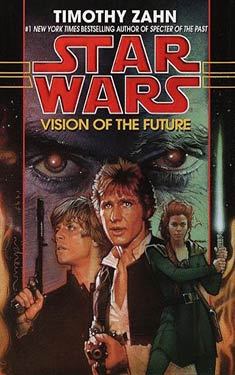 Synopsis
For a beleaguered Empire, desperate times call for desperate measures. Sowing discord among the fragile coalition of the New Republic, remnants of the once powerful Empire make one last play for victory. Having implicated the Bothans in an act of genocide, they now plan an attack on Han and Leia that is also to be blamed on the Bothans. If they are successful, the New Republic will be torn asunder. To prevent inevitable disaster, Luke, Leia, Han, and their friends must prove the Bothans innocent and reveal the Empire's treachery. But time is running out.
The cunning Major Tierce has joined with the ambitious Moff Disra in the Empire's master plan. At its heart lies the most elaborate con of all: the rumor that the legendary Grand Admiral Thrawn, long believed dead, has returned to lead the Empire to a prophesied triumph. The news of Thrawn's return is already rallying Empire forces against the New Republic.
As Leia travels to a secret rendezvous with an Imperial commander who claims towant peace, Han and Lando Calrissian journey into enemy territory to learn the truth of Emberlene's destruction. Meanwhile, Luke and Mara Jade infiltrate a hidden fortress where Thrawn's most fanatical followers await his call to arms. And Talon Karrde returns to his underworld past and a brutal crime lord whose knowledge may save the Republic. But it is the truth about Thrawn that is most important. In his hands--alive or dead--rests the fate of the New Republic.
Excerpt
No excerpt currently exists for this novel.
Reviews
There are currently no reviews for this novel. Be the first to submit one! You must be logged in to submit a review in the BookTrackr section above.
Images
No alternate cover images currently exist for this novel.