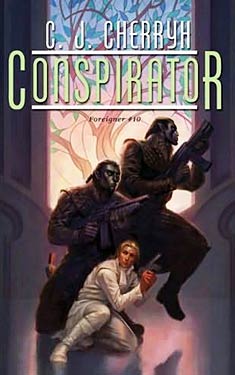 Synopsis
The civil war among the alien atevi has ended. Tabini-aiji, powerful ruler of the Western Association, along with Cajeiri, his son and heir, and his human paidhi, Bren Cameron, have returned to the Bujavid, their seat of power. But factions that remain loyal to the opposition are still present, and the danger these rebels pose is far from over. Since the rebellion, Bren Cameron's apartment in the capital has been occupied by an old noble family from the Southern district - the same district from which the coup was initiated. This family now claims loyalty to Tabini, but the aiji is dubious, and dealing with these possible rebel infiltrators will require finesse on Tabini's part. To avoid additional conflict, Bren has decided to absent himself from the Bujavid and visit Najida, his country estate on the west coast, for the month before the legislature resumes its session. It has been more than two years since Bren was last at his idyllic country retreat, and he relishes the thought of the peace and tranquillity his lovely coastal home affords.
Tabini-aiji has once again taken over the job of training his young son in the traditional ways of the atevi, and has Cajeiri under strict supervision. But after two years in space, surrounded by human children, with only his great-grandmother, the aiji-dowager Ilisidi, as guardian and teacher, Cajeiri bristles in this highly controlled and boring environment. He misses his human associates in space, he misses the company of his wily great-grandmother, who allowed him more liberty than his parents do, but most of all, he misses his close association with nand' Bren.
Desperate for freedom and adventure, disregarding the obvious danger, Cajeiri escapes the tightly guarded Bujavid with his young bodyguards and sets out secretly to join Bren on the coast.
Determined to insure his son's safety, Tabini recalls Ilisidi from her home in the East, asking her to find Cajeiri and secure him at Bren's estate.
But it has been a long time since Bren has been to Najida, and the war has shifted allegiances in many quarters. A district that once was considered a safe haven might now be a trap. And with Bren, Cajeiri, and Ilisidi all under one roof and separated from their allies, that trap is now baited.
Excerpt
A slight rap at the door, a servant signaling entry, possibly to see if he wanted more tea.
It was Ramaso himself.
"A phone call has arrived, nandi," Ramaso said, his aged face much in earnest. "The aiji's staff requests you to speak to the aiji."
God. That couldn't be good news. He got up and went immediately to the phone on the study desk.
"This is the paidhi-aiji," he said, and on the other end:
"One moment, nandi."
Then, deeply and distinctly: "Bren-paidhi?"
"Aiji-ma," he said. His pulse was up. He controlled his breathing with a mindful effort.
"My son," the aiji began, "is on a train headed for the coast."
Breath stopped. He wasn't sure what to say, or what change of the aiji's plans this represented. But he knew Cajeiri, and five would get you ten -
"Have you sent him, aiji-ma?"
"We have not," Tabini said, understandably hot. "He left in the night, on a freight train, changed at the north Shejidan station for a westbound freight, he and his two associates, and they are quite clearly on their way to visit you, nandi. The aiji-dowager has ordered her plane to turn around in mid-flight. Our staffs are in an uproar - justifiably."
He was aghast. The danger, the chance just of accident, let alone the boy's exposure to the aiji's enemies -
"One will meet the train, aiji-ma, and personally escort him back."
A pause. A lengthy pause. "You have guests under your roof. We shall send an escort." A sigh. "If you can intercept him, likely we can persuade his great-grandmother to resume her trip to Malguri. Can you bear with my son for five days?"
Tabini could get people there far faster than that - could fly them out to meet that train, if need be. Could stop that train with a phone call and have the local constabulary pick up his son. Tabini was giving the young rascal a little extra rein - and likely his plan to get Ilisidi safely settled back in Malguri before the legislative session drew her attention would be easier if he could tell the dowager that the boy was going to be absent. But that five days ...
Conflicted directly with his scheduled visit to Lord Baiji. That could be adjusted. But it was socially difficult.
"One would certainly do so, aiji-ma," he said. "But shall I treat this as a proper visit?"
"Yes," came the exasperated answer. "If the paidhi is pleased to have one more guest."
"Then may one ask, with trepidation under the circumstances, aiji-ma, that he remain with us seven days. There are local commitments I have already made for the fifth day, a visit to a neighbor that I cannot gracefully break, but within a seven days' stay, I can entertain your son in good style, take him on the fishing trip I promised him, as well as honor my other guests, and make my appointment with my neighbor."
"If the paidhi is so patient as to accommodate my son, yes, do so. Seven days. But speak to him, paidhi-ji, speak to him very strongly. Perhaps you can make him understand the hazards he runs in such reckless ventures."
"One absolutely understands, aiji-ma." He added, on an afterthought: "Aiji-ma, one hopes nothing I personally said to him can possibly be construed as -"
"Encouragement? Paidhi-ji, the presence of Guild at the doors did not dissuade him! The presence of the aiji-dowager did not dissuade him! Gods less fortunate! My certain displeasure did not dissuade him! We have no doubt this thought sprang full-formed from his own mind, and he used his great-grandmother's activities for a screen to his operations. What can anyone do? Seven days, restraining my son? You have my condolences, paidhi-ji!"
"Aiji-ma, I will at least keep him safe until the escort arrives to take him home."
"Do so, paidhi-ji! Perhaps a little country exercise will purge the energy from him. Faultless for a whole month and now this! He is gar too clever for his own good."
"I shall do my utmost, aiji-ma."
"Brave paidhi," Tabini said. "The train is the noon freight from Tolabi. Fortune attend you." Which said, Tabini hung up.
Copyright © 2009 by C. J. Cherryh
Reviews
There are currently no reviews for this novel. Be the first to submit one! You must be logged in to submit a review in the BookTrackr section above.
Images
No alternate cover images currently exist for this novel. Be the first to submit one!