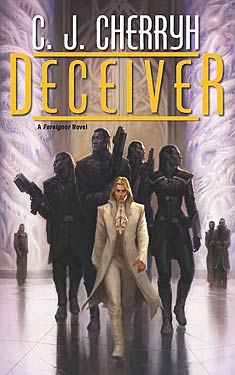 Synopsis
The civil war among the alien atevi is over. Tabini-aiji, dynamic ruler of the Western Association, has reclaimed his former power, and once again resides in the capital. But factions that remain loyal to the opposition are still present, and the danger these rebels pose is far from over.
Bren Cameron, the brilliant human diplomat allied with Tabini, has graciously chosen to visit Najida, his country estate on the west coast. He feels that the political tensions in the capital might ease if he is not present, and after two years in space and his return to a planet still imperiled by revolution, he relishes the peace and tranquillity his lovely coastal home affords.
But peace and tranquillity are not in the cards for Bren.
Desperate for freedom and adventure, disregarding the obvious danger, Cajeiri, Tabini's young son, escapes the tightly guarded capital with his bodyguards and arrives to surprise Bren in the country. But he is not the only surprise guest, for Ilisidi, the aiji-dowager, Tabini's wily and powerful grandmother, has been dispatched to secure her great-grandson's safety.
However, Najida, formerly a safe haven, is no longer the sanctuary it once was. For a neighbor's estate - the ancestral home of Lord Geigi, a close associate of Bren's - has been left without strong leadership. Lord Geigi now resides on and runs the atevi space station, and in his absence, rebel clans have infiltrated his home. When these rebels attack Bren, Cajeiri, and the dowager, they have no choice but to recall Geigi from space.
With Lord Geigi, Ilisidi, Bren, and Cajeiri all under one roof, they pose an irresistible target for the enemy. And Bren's pastoral retreat, now swarming with bodyguards, becomes a locked-down and armed fortress. These four individuals - three of the most powerful politicians on the planet, and the heir to the aiji - are not without their own resources. But can they overcome their adversaries and end this guerilla war that is the last vestige of revolution?
Excerpt
"Delightful, positively delightful, Bren-ji," Geigi said to him as they were settling in to the admittedly cramped sitting room. "I have not had such a dinner in ages!"
"You are very kind to say so," Bren said; and took a brandy himself, if only to moisten his lips with it.
Talk ran light for the while: Cajeiri was as quiet as Toby and Barb, and Bren himself had little to say, once the dowager and Geigi took to discussing the Marid.
Now that was interesting. One knew, but didn't know the intricacies of the Marid relationships the way Geigi did.
Geigi had himself been married to a woman of the Marid - "I committed my own folly," was Geigi's way of putting it, "so I cannot wholly fault my fool nephew on that point, except that when the man ahead of you has fallen into a pit, it is entirely foolish to keep walking down the same course."
"It is what we said from the beginning, nandi," Ilisidi said. "You were doing, yes, much the same as your nephew did in listening to the Marid; but there is a difference. You hoped to stabilize the west coast, which was in a very uncomfortable balance at the time. Your staff served you gladly; you had the confidence of the Edi, despite your unfortunate marriage, and despite your wife's best attempts to bankrupt your fortunes. Your nephew, in these dangerous times, was more concerned with stabilizing his own fortunes - no, not even his fortunes: he is not that foresighted. His comfort. One scarcely believes young Baiji ever had a thought in which his own convenience and comfort were not preeminent."
Geigi nodded solemnly. "One hoped he had changed. I lamented my sister's passing - we were often at loggerheads, but she had virtues when it did not involve her son. And she was my sister." Geigi sighed. "Marriage has been very problematic for my house, nadiin-ji. A reef on which my branch of Maschi clan may have finally shipwrecked."
"Say no such thing!" Ilisidi snapped. "Your management will resurrect Maschi clan's fortunes. As for heir-getting, Baiji will produce an heir with a lady of advantageous birth, his mother will have his rearing up to fortunate seven, and then we shall simply pack him up to the station so you may have the pleasure of bring up your nephew in a proper way."
A little smile. "You have it planned, aiji-ma."
"Enough of aiji-ma. 'Sidi will do, I say. Speak to me. Voice your opinion about this course."
"I would wish my heir to grow up at Kajiminda," Geigi said wistfully, "and I would wish to have my nephew as far away from any impressionable child as possible."
"Ha. Bring your nephew up to the station, then marry the young woman I suggest, and install her as lord in Kajiminda."
Geigi's right brow lifted. He took a sip of brandy. "Do you have a name for this theoretical young woman?" he asked.
"We have two possibilities. But we lean most to Maie of the Calrunaidi. A brilliant young scholar. Her brother will inherit Calrunaidi, and she has no shortage of prospects. She is sensible, good at figures, a credit to her parentage, which is Calrunaidi and Ardija. She is not beauty, but it is not beauty that recommends her."
"Ardija," Geigi said, nodding slowly. The aged lady of Ardija, as Bren well-remembered, was Drien, Ilisidi's closest living relative in the East. It was a connection with her own estate of Malguri that Ilisidi proposed for Geigi.
"The young lady has rights there, but no inheritance: Drien of Ardija has a brother-of-the-same-mother whose son will inherit that estate. So young Maie has better connections than she does prospects. She is a well-dispositioned child who could do far, far better than temporarily marry one of my neighbors and produce them heirs with her connections ... frankly, a potential inconvenience to my house, which has no heir but this young gentleman, and he is too young for her."
"Great-grandmother!" Cajeiri said in shock.
"Continue to be young," Ilisidi said, brushing the matter aside. "Too young, I say, and the young lady is far too bookish for your taste. Not, however, for Lord Geigi's interests, perhaps. Geigi may marry her."
"Marry," Geigi said, still in shock, himself; and Barb and Toby were looking in Bren's direction in some concern, but it was no time to provide translations.
It was a brilliant piece of dynastic chess - if the individuals involved could be persuaded. The sticking point was persuading any young lady of taste to bed down with Baiji long enough. But that marriage could be contracted to last just as long as it took to produce an heir, then evaporate as if it had never been. The young woman would find herself quickly married to Lord Geigi, who might even visit the planet for the occasion - and thereafter, if one could read Ilisidi's plans between the lines, young Maie of the East would occupy Kajiminda, deal with the Edi, and bring up a suitably educated heir for Geigi's branch of Maschi clan. Maybe two heirs, if she and Geigi actually took to each other ... though the unspoken matter in the background was that Geigi was rumored to have very little interest in young ladies, and no success in getting an heir of his own.
Copyright © 2010 by C. J. Cherryh
Reviews
There are currently no reviews for this novel. Be the first to submit one! You must be logged in to submit a review in the BookTrackr section above.
Images
No alternate cover images currently exist for this novel.