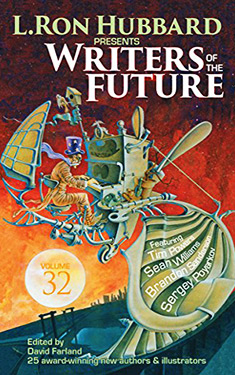 L. Ron Hubbard Presents Writers of the Future, Volume 32
Synopsis
Science Fiction & Fantasy Anthology and Advice to Writers 2016
You are about to meet:
YOUR NEXT FAVORITE AUTHOR
The 32nd edition of Writers of the Future may be the best new book yet! Brand-new adventure through space, time and possibility.
Along the way these new authors will introduce you to fascinating characters such as Nate, a very loyal companion--like most werewolves would be. Keanie has a parasite that lets her morph and so transform into anyone. Liz owns a dinosaur maker, but raw ingredients can be a problem. Anna slaves away in a factory but her magic leaves her unfulfilled. These authors take creative writing to a whole new level!
The answers, the stories, the visions, and the mind-stretching possibilities are all waiting inside.
Welcome to the future of Science Fiction and Fantasy. It gets better every year. These are the award winning short stories of the international contest that have launched the writing careers of some of the best new books!
BONUS stories and articles on how to write by New York Times best sellers Tim Powers, Sean Williams, Brandon Sanderson, Sergey Poyarkov & L. Ron Hubbard
"The Writers of the Future contest looks for people with the best imaginations who can see through the possibilities of the strangest and best ideas and tell stories that intrigue us and involve us." --Orson Scott Card
Celebrate the 32nd anniversary of the Writers of the Future contest and the 27th anniversary of the Illustrators of the Future contest.
Table of Contents:
Introduction - essay by David Farland
The Star Tree - short story by Jon Lasser
Images Across a Shattered Sea - short story by Stewart C. Baker
Möbius - short story by Christoph Weber
How to Drive a Writer Crazy - (1998) - essay by L. Ron Hubbard
The Last Admiral - (1950) - short story by L. Ron Hubbard
The Jack of Souls - novelette by Stephen Merlino
Swords Like Lightning, Hooves Like Thunder - novelette by K. D. Julicher
Where Steampunk Started - essay by Tim Powers
Hellfire on the High Frontier - (2014) - novelette by David Farland
Squalor and Sympathy - novelette by Matt Dovey
Dinosaur Dreams in Infinite Measure - short story by Rachael K. Jones
Cry Havoc - short story by Julie Frost
A Glamour in the Black - short story by Sylvia Hiven
The Broad Sky Was Mine, and the Road - short story by Ryan Row
The Fine Distinction Between Cooks and Chefs - essay by Brandon Sanderson
The Jade Woman of the Luminous Star - (2011) - novelette by Sean Williams
Freebot - short story by R. M. Graves
Last Sunset for the World Weary - short story by H. L. Fullerton
The Sun Falls Apart - short story by J. W. Alden
Flawless Imperfection - essay by Sergey Poyarkov
Directing the Art - essay by Bob Eggleton
The Year in the Contests - essay by uncredited
Excerpt
No excerpt currently exists for this novel.
Reviews
There are currently no reviews for this novel. Be the first to submit one! You must be logged in to submit a review in the BookTrackr section above.
Images
No alternate cover images currently exist for this novel.