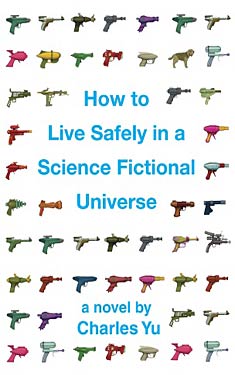 How to Live Safely in a Science Fictional Universe
Synopsis
National Book Foundation 5 Under 35 Award winner Charles Yu delivers his debut novel, a razor-sharp, ridiculously funny, and utterly touching story of a son searching for his father . . . through quantum space–time.
Minor Universe 31 is a vast story-space on the outskirts of fiction, where paradox fluctuates like the stock market, lonely sexbots beckon failed protagonists, and time travel is serious business. Every day, people get into time machines and try to do the one thing they should never do: change the past. That's where Charles Yu, time travel technician-part counselor, part gadget repair man-steps in. He helps save people from themselves. Literally. When he's not taking client calls or consoling his boss, Phil, who could really use an upgrade, Yu visits his mother (stuck in a one-hour cycle of time, she makes dinner over and over and over) and searches for his father, who invented time travel and then vanished. Accompanied by TAMMY, an operating system with low self-esteem, and Ed, a nonexistent but ontologically valid dog, Yu sets out, and back, and beyond, in order to find the one day where he and his father can meet in memory. He learns that the key may be found in a book he got from his future self. It's called How to Live Safely in a Science Fictional Universe, and he's the author. And somewhere inside it is the information that could help him-in fact it may even save his life.
Wildly new and adventurous, Yu's debut is certain to send shock waves of wonder through literary space–time.
Excerpt
1
There is just enough space inside here for one person to live indefinitely, or at least that's what the operation manual says. User can survive inside the TM-31 Recreational Time Travel Device, in isola­tion, for an indefinite period of time.
I am not totally sure what that means. Maybe it doesn't actually mean anything, which would be fine, which would be okay by me, because that's what I've been doing: living in here, indefinitely. The Tense Operator has been set to Present-Indefinite for I don't know how long—some time now—and although I still pick up the occasional job from Dispatch, they seem to come less frequently these days and so, when I'm not working, I like to wedge the gearshift in P-I and just sort of cruise.
My gums hurt. It's hard to focus. There must be some kind of internal time distortion effect in here, because when I look at myself in the little mirror above my sink, what I see is my father's face, my face turning into his. I am beginning to feel how the man looked, especially how he looked on those nights he came home so tired he couldn't even make it through dinner without nodding off, sitting there with his bowl of soup cooling in front of him, a rich pork-and-winter-melon-saturated broth that, moment by moment, was losing—or giving up—its tiny quan­tum of heat into the vast average temperature of the universe.
The base model TM-31 runs on state-of-the-art chronodiegetical technology: a six-cylinder grammar drive built on a quad-core physics engine, which features an applied temporalinguistics architecture allowing for free-form navigation within a ren­dered environment, such as, for instance, a story space and, in particular, a science fictional universe.
Or, as Mom used to say: it's a box. You get into it. You push some buttons. It takes you to other places, different times. Hit this switch for the past, pull up that lever for the future. You get out and hope the world has changed. Or at least maybe you have.
I don't get out much these days. At least I have a dog, sort of. He was retconned out of some space western. It was the usual deal: hero, on his way up, has a trusty canine sidekick, then hero gets famous and important and all of that and by the time sea­son two rolls around, hero doesn't feel like sharing the spotlight anymore, not with a scruffy-looking mutt. So they put the little guy in a trash pod and sent him off.
I found him just as he was about to drift into a black hole. He had a face like soft clay, and haunches that were bald in spots where he'd been chewing off his own fur. I don't think anyone has ever been as happy to see anything as this dog was to see me. He licked my face and that was that. I asked him what he wanted his name to be. He didn't say anything so I named him Ed.
The smell of Ed is pretty powerful in here, but I'm okay with that. He's a good dog, sleeps a lot, sometimes licks his paw to comfort himself. Doesn't need food or water. I'm pretty sure he doesn't even know that he doesn't exist. Ed is just this weird onto­logical entity that produces unconditional slobbery loyal affection. Superfiuous. Gratuitous. He must violate some kind of conserva­tion law. Something from nothing: all of this saliva. And, I guess, love. Love from the abandoned heart of a non-existent dog.
. . .
Because I work in the time travel industry, everyone assumes I must be a scientist. Which is sort of correct. I was studying for my master's in applied science fiction—I wanted to be a struc­tural engineer like my father—and then the whole situation with Mom got worse, and with my dad missing I had to do what made sense, and then things got even worse, and this job came along, and I took it.
Now I fix time machines for a living.
To be more specific, I am a certified network technician for T-Class personal-use chronogrammatical vehicles, and an approved independent affiliate contractor for Time Warner Time, which owns and operates this universe as a spatio-temporal structure and entertainment complex zoned for retail, commercial, and residential use. The job is pretty chill for the most part, although right this moment I'm not loving it because I think my Tense Operator might be breaking down.
It's happening now. Or maybe not. Maybe it was earlier today. Or yesterday. Maybe it broke down a long time ago. Maybe that's the point: if it is broken and my transmission has been shift­ing randomly in and out of gears, then how would I ever know when it happened? Maybe I'm the one who broke it, trying to fool myself, thinking I could live like this, thinking I could stay out here forever.
. . .
The red indicator light just came on. I'm looking at the run-time error report. It's like a mathematically precise way of saying, This is not how you do this, man. Meaning life, I suppose. It's computer for Hey, buddy, you are massively bungling this up. I know it. I know it better than anyone. I don't need silicon wafers with a slightly neurotic interface to tell me that.
That would be TAMMY, by the way. The TM-31's computer UI comes in one of two personality skins: TIM or TAMMY. You can only choose once, the first time you boot up, and you're stuck with your choice forever.
I'm not going to lie. I chose the girl one. Is TAMMY's curvilinear pixel configuration kind of sexy? Yes it is. Does she have chestnut-colored hair and dark brown eyes behind pixilated librarian glasses and a voice like a cartoon princess? Yes and yes and yes. Have I ever, in all my time in this unit, ever done you know what to a screenshot of you know who? I'm not going to answer that. All I will say is that at a certain point, you lose the capacity for embarrassment. I'm not there yet, but I'm not far from it. Let's see. I've got a nontrivial thinning situation going on with the hair. I am, rounding to the nearest, oh, about five nine, 185. Plus or minus. Mostly plus. I might be hiding from history in here, but I'm not hiding from biology. Or gravity. So yeah, I went with TAMMY.
Do you want to know the first thing she ever said to me? enter password. Okay, yeah, that was the first thing. Do you know the second thing? i am incapable of lying to you. The third thing she said to me was i'm sorry.
"Sorry for what?" I said.
"I'm not a very good computer program," she said.
"I've never met software with low self-esteem."
"I'll try hard, though," she said. "I really want to do a good job for you."
TAMMY always thinks everything is about to go to hell. Always telling me how bad things could get. So yeah, it hasn't been what I expected. Do I regret it sometimes? Sure I do. Would I choose TAMMY again? Sure I would. What do you want me to say? I'm lonely. She's nice. She lets me flirt with her. I have a thing for my operating system. There. I said it.
I've never been married. I never got married. The woman I didn't marry is named Marie. Technically, she doesn't exist. Just like Ed.
Except that she does. A little paradox, you might think, but really, The Woman I Never Married is a perfectly valid ontological entity. Or class of entities. I suppose technically you could make the argument that every woman is The Woman I Never Married. So why not call her Marie, that was my thinking.
This is how we never met:
One fine spring day, Marie went to the park in the center of town, near the middle school and the old bakery that is now a furniture warehouse. I'm assuming. She must have, right? Someone like her must have done something like this at some point in time. Marie packed her lunch and a paperback and walked the half mile to the park from the house where she lived or never lived. She sat on a worn, wooden bench, and read her book, and nibbled on her sandwich. The air was warm syrup, was literally thick with pollen and dandelion clocks and photons moving at the speed of light. An hour passed, then two. I never arrived at the park, wearing the only suit I never had, the one with a hole in the side pocket that no one ever saw. I never noticed her that first time, never saw her looking at the tops of the eucalyptus trees, running her thumb over the worn page corners of the book open, faceup, on her lap. I never did catch her eye while tripping over my own foot, never made her laugh that first time. I never asked what her name was. She never told me that it was Marie. A week later, I did not call her. A year later, we did not get married in a little white church on a hill overlooking the park where, on that first afternoon, we shared a bench, asked polite questions, tried hard not to stare at each other while we imagined the perfect life we were never going to have together, a life we never even lost, a life that would have started, right at that moment, and never did.
I wake up to the sound of TAMMY crying.
"How do you even know how to do that?" I ask her. I wish I could be more sensitive, but I just don't understand why they would program her to have such depressive tendencies. "Like, where in your code are you getting this from?"
This makes her cry even harder, to the point where she starts to do that warbly gasping heaving sobbing thing that little kids do, which makes no sense, because it's not like TAMMY has a mouth, or vocal cords, or lungs. I generally like to think...
Copyright © 2010 by Charles Yu
Reviews
Images
No alternate cover images currently exist for this novel. Be the first to submit one!