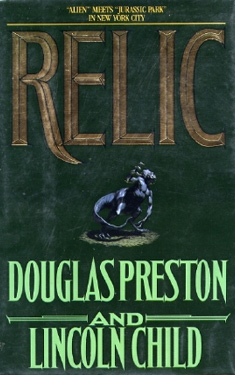 Film & Television Adaptations
Synopsis
Just days before a massive exhibition opens at the popular New York Museum of Natural History, visitors are being savagely murdered in the museum's dark hallways and secret rooms. Autopsies indicate that the killer cannot be human...
But the museum's directors plan to go ahead with a big bash to celebrate the new exhibition, in spite of the murders.
Museum researcher Margo Green must find out who-or what-is doing the killing. But can she do it in time to stop the massacre?
Excerpt
1
The Amazon Basin, September 1987
At noon, the clouds clinging to the top of Cerro Gordo broke free and scattered. Far above, in the upper reaches of the forest canopy, Whittlesey could see golden tints of sunlight. Animals--probably spider monkeys--thrashed and hooted above his head and a macaw swooped low, squawking obscenely.
Whittlesey stopped next to a fallen jacaranda tree and watched Carlos, his sweating camp assistant, catch up.
"We will stop here," he said in Spanish. "Baja la caja. Put down the box."
Whittlesey sat down on the fallen tree and pulled off his right boot and sock. Lighting a cigarette, he applied its tip to the forest of ticks on his shin and ankle.
Carlos unshouldered an old army packboard, on which a wooden crate was awkwardly lashed.
"Open it, please," said Whittlesey.
Carlos removed the ropes, unsnapped a series of small brass clasps, and pulled off the top.
The contents were packed tightly with the fibers of an indigenous plant. Whittlesey pulled aside the fibers, exposing some artifacts, a small wooden plant press, and a stained leather journal. He hesitated a moment, then drew a small but exquisitely carved figurine of a beast from the shirt pocket of his field jacket. He hefted the artifact in his hand, admiring again its workmanship, its unnatural heaviness. Then he placed it reluctantly in the crate, covered everything with the fibers, and reattached the lid.
From his rucksack, Whittlesey took out a folded sheet of blank paper, which he opened on his knee. He brought a battered gold pen out of his shirt pocket and began writing:
Upper Xingú
Sept. 17, 1987
Montague,
I've decided to send Carlos back with the last crate and go on alone in search of Crocker. Carlos is trustworthy, and I can't risk losing the crate should anything happen to me. Take note of the shaman's rattle and other ritual objects. They seem unique. But the figurine I've enclosed, which we found in a deserted hut at this site, is the proof I've been looking for. Note the exaggerated claws, the reptilian attributes, the hints at bipedalia. The Kothoga exist, and the Mbwun legend is not mere fabrication.
All my field notes are in this notebook. It also contains a complete account of the breakup of the expedition, which you will of course know about by the time this reaches you.
Whittlesey shook his head, remembering the scene that had played itself out the day before. That idiotic bastard, Maxwell. All he'd cared about was getting those specimens he'd stumbled on back to the Museum undamaged. Whittlesey laughed silently to himself. Ancient eggs. As if they were anything more than worthless seed pods. Maxwell should have been a paleobiologist instead of a physical anthropologist. How ironic they'd packed up and left a mere thousand yards from his own discovery.
In any case, Maxwell was gone now, and the others with him. Only Carlos and Crocker, and two guides, had stayed. Now mere was just Carlos. Whittlesey returned to the note.
* * *
Use my notebook and the artifacts, as you see fit, to help restore my good standing with the Museum. But above all else, take care of this figurine. I am convinced that its worth to anthropology is incalculable. We discovered it yesterday by accident. It seems to be the centerpiece of the Mbwun cult. However, there is no other trace of habitation nearby. This strikes me as odd.
* * *
Whittlesey paused. He hadn't described the discovery of the figurine in his field notes. Even now, his mind resisted the memory.
Crocker had wandered off the trail for a better look at a jacamar; otherwise they'd never have found the hidden path, slanting down steeply between moss-slick walls. Then, that crude hut, half-buried among ancient trees, in the wet vale where daylight barely penetrated... The two Botocudo guides, normally chattering nonstop to each other in Tupian, shut up immediately. When questioned by Carlos, one of them just muttered something about a guardian of the hut, and a curse on anybody who violated its secrets. Then, for the first time, Whittlesey had heard them speak the word Kothoga. Kothoga. The shadow people.
Whittlesey was skeptical. He'd heard talk of curses before--usually, right before a request for higher wages. But when he emerged from the hut, the guides were gone.
... Then that old woman, blundering out of the forest. She was probably Yanomamo, obviously not Kothoga. But she knew of them. She had seen them. The curses she'd hinted at... And the way she'd just melted back into the forest, more like a jaguar yearling than a septuagenarian.
Then, they turned their attention to the hut.
The hut... Gingerly, Whittlesey allowed himself to remember. It was flanked by two stone tablets with identical carvings of a beast sitting on its haunches. Its claw held something weathered and indistinguishable. Behind the hut lay an overgrown garden, a bizarre oasis of bright color amid the green fastness.
The floor of the hut was sunken several feet, and Crocker almost broke his neck on the way in. Whittlesey followed him more carefully, while Carlos simply knelt in the entranceway. The air inside was dark and cool and smelt of decaying earth. Switching on his flashlight, Whittlesey saw the figurine sitting on a tall earthen mound in the middle of the hut. Around its base lay a number of strangely carved discs. Then the flashlight reached the walls.
The hut had been lined with human skulls. Examining a few of the closest, Whittlesey noticed deep scratch marks he could not immediately understand. Ragged holes yawned through the tops. In many cases, the occipital bone at the base of the skull was also smashed and broken off, the heavy squamosal bones completely gone.
His hand shook, and the flashlight failed. Before he switched it on again, he saw dim light filtering through thousands of eye sockets, dust motes swimming sluggishly in the heavy air.
Afterward, Crocker decided he needed a short walk--to be alone for a while, he'd told Whittlesey. But he hadn't come back.
* * *
The vegetation here is very unusual. The cycads and ferns look almost primordial. Too bad there isn't time for more careful study. We've used a particularly resilient variety as packing material for the crates; feel free to let Jorgensen take a look, if he's interested.
I fully expect to be with you at the Explorer's Club a month from now, celebrating our success with a brace of dry martinis and a good Macanudo. Until then, I know I can entrust this material and my reputation to you.
Your colleague,
Whittlesey
* * *
He inserted the letter beneath the lid of the crate.
"Carlos," he said, "I want you to take this crate back to Pôrto de Mós, and wait for me there. If I'm not back in two weeks, talk to Colonel Soto. Tell him to ship it back with the rest of the crates by air to the Museum, as agreed. He will draw your wages."
Carlos looked at him. "I do not understand," he said. "You will stay here alone?"
Whittlesey smiled, lit a second cigarette, and resumed killing ticks. "Someone has to bring the crate out. You should be able to catch up with Maxwell before the river. I want a couple of days to search for Crocker."
Carlos slapped his knee. "Es loco! I can't leave you alone. Si te dejo atrás, te morirías. You will die here in the forest, Señor, and your bones will be left to the howler monkeys. We must go back together, that is best."
Whittlesey shook his head impatiently. "Give me the Mercurochrome and the quinine, and the dried beef from your pack," he said, pulling the filthy sock back on and lacing his boot.
Carlos started unpacking, still protesting. Whittlesey ignored him, absently scratching insect bites on the back of his neck and staring up toward Cerro Gordo.
"They will wonder, Señor. They will think I left you. It will be very bad for me," Carlos said rapidly, placing the items in Whittlesey's pack. "The cabouri flies will eat you alive," he continued, moving over to the crate and lashing it shut. "You will catch malaria again, and die this time. I will stay with you."
Whittlesey stared at the shock of snow-white hair plastered to Carlos's sweaty forehead. That hair had been pure black yesterday, before Carlos looked into the hut. Carlos met his gaze for a moment, then lowered his eyes.
Whittlesey stood up. "Adiós," he said, and disappeared into the bush.
* * *
By late afternoon, Whittlesey noticed that the thick, low clouds had returned to shroud Cerro Gordo. For the last I several miles, he had been following an ancient trail of unknown origin, barely a narrow alley in the brush. The trail cleverly worked its way through the blackwater swamps surrounding the base of the tepui, the soggy, jungle-clotted plateau that lay ahead. The trail had the logic of a human trail, Whittlesey thought. It moved with obvious purpose; animal tracks often wandered. And it was heading for a steep ravine in the shoulder of the approaching tepui. Crocker must have come this way.
He stopped to consider, unconsciously fingering the talisman--a gold arrow overlaid by another of silver--that had hung around his neck since childhood.
Copyright © 1995 by Douglas Preston
Copyright © 1995 by Lincoln Child
Reviews
Images
No alternate cover images currently exist for this novel. Be the first to submit one!