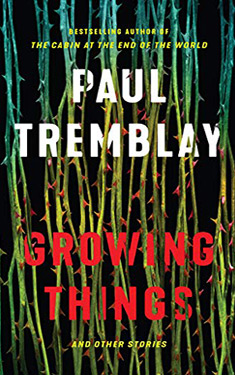 Growing Things and Other Stories
Synopsis
A masterful anthology featuring nineteen pieces of short fiction, Growing Things is an exciting glimpse into Paul Tremblay's fantastically fertile imagination.
In "The Teacher," a Bram Stoker Award nominee for best short story, a student is forced to watch a disturbing video that will haunt and torment her and her classmates' lives.
Four men rob a pawn shop at gunpoint only to vanish, one-by-one, as they speed away from the crime scene in "The Getaway."
In "Swim Wants to Know If It's as Bad as Swim Thinks," a meth addict kidnaps her daughter from her estranged mother as their town is terrorized by a giant monster . . . or not.
Joining these haunting works are stories linked to Tremblay's previous novels. The tour de force metafictional novella "Notes from the Dog Walkers" deconstructs horror and publishing, possibly bringing in a character from A Head Full of Ghosts, all while serving as a prequel to Disappearance at Devil's Rock. "The Thirteenth Temple" follows another character from A Head Full of Ghosts--Merry, who has published a tell-all memoir written years after the events of the novel. And the title story, "Growing Things," a shivery tale loosely shared between the sisters in A Head Full of Ghosts, is told here in full.
From global catastrophe to the demons inside our heads, Tremblay illuminates our primal fears and darkest dreams in startlingly original fiction that leaves us unmoored. As he lowers the sky and yanks the ground from beneath our feet, we are compelled to contemplate the darkness inside our own hearts and minds.
Table of Contents:
1 - Growing Things
17 - Swim Wants to Know If It's As Bad As Swim Thinks
31 - Something About Birds
53 - The Getaway
69 - 19 Snapshots of Dennisport
83 - Where We Will All Be
97 - The Teacher
109 - Notes for "The Barn in the Wild"
125 - _____
137 - Our Town's Monster
151 - A Haunted House Is a Wheel Upon Which Some Are Broken
175 - It Won't Go Away
191 - Notes from the Dog Walkers
235 - Further Questions for the Somnambulist
245 - The Ice Tower
253 - The Society of the Monsterhood
267 - Her Red Right Hand
283 - It's Against the Law to Feed the Ducks
299 - The Thirteenth Temple
323 - Notes (Growing Things and Other Stories)
Excerpt
No excerpt currently exists for this novel. Be the first to submit one!

Submit an Excerpt
Reviews
There are currently no reviews for this novel. Be the first to submit one! You must be logged in to submit a review in the BookTrackr section above.
Images
No alternate cover images currently exist for this novel. Be the first to submit one!