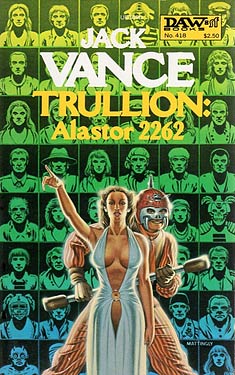 Synopsis
First of the three fabulous Alastor Cluster novels from Jack Vance, one of the finest authors ever to devote his career to science fiction, certainly one of the wittiest, most inventive, erudite and poetic. An absolutely wonderful novel.
The Alastor Cluster, thirty thousand inhabited worlds ruled by the mysterious Connatic.
Trullion, world 2262 of the Alastor Cluster, was a world of fens, mists, idyllic islands scattered in an aquatic setting of surpassing beauty with its shaggy trees like bursts of great chrysanthemums, its natural growth of fruits and all the richness the clear oceans provided for the easy taking.
The Trill were a lackadaisical, easy-living race-except for the planetwide game of hassade when a ferocious instinct for gambling drove them to risk all-home, friends, family, even life itself-on the teams that contested the water-checkerboard gaming fields.
With the prize the virginal body of a sheirl-maiden, a body any Trill is willing to die for...
Excerpt
No excerpt currently exists for this novel.
Reviews
Images
No alternate cover images currently exist for this novel.