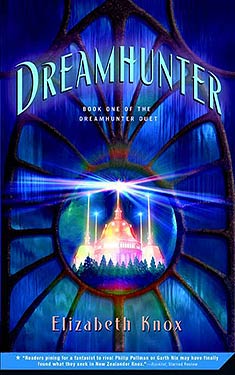 Synopsis
Laura comes from a world similar to our own except for one difference: It is next to the Place, an unfathomable land that fosters dreams of every kind and is inaccessible to all but a select few, the dreamhunters. These are individuals with the ability to catch larger-than-life dreams and relay them to audiences in the magnificent dream palace. People travel from all around to experience the benefits of the hunters' unique visions.
Now, fifteen-year-old Laura and her cousin Rose, daughters of dreamhunters, are old enough to find out if they qualify to enter the Place. But nothing can prepare them for what they are about to discover. In the midst of a fascinating landscape, Laura's dreamy childhood is ending, and a nightmare is beginning.
Excerpt
1
On a hot day near the end of sum­mer, Laura Hame sat with her fa­ther; her cousin, Rose; and her aunt Grace against the fern-fringed bank on a forest track. She watched as her uncle Chorley and the rest of the picnic party passed out of sight around the next bend. Chorley turned and waved before he disappeared. Laura stared at the empty, sun-splashed path. She saw black bush bees zipping back and forth through the air above the nettles and heard the muffled roar of Whynew Falls, where the rest of the party were headed. Laura and Rose; Laura's father, Tziga; and her aunt Grace were sitting under a sign. The sign read, CAUTION: you are now only100 yards from the border to the place. "The falls are loud today," Tziga said. "It must have poured up in the hills." They listened to the cascade pound and thump. Laura, who had never been allowed near the falls, tried to imagine how they would sound up close. Her father said, "Think how startled Chorley would be if one of these girls suddenly skipped up behind him." Aunt Grace squinted at Laura's father. "What do you mean?"
"Come on, Grace. Why don't we just get up and wander along that way?"
"Tziga!" Grace was shocked. Laura and Rose were too. The family had owned a summer house at nearby Sisters Beach for ten years, and at least once a year they would go with friends for a picnic up in the old beech forest. Every summer those who could would continue along the track to see the falls. And every summer the girls were forced to wait at the sign with their dreamhunter parents. Tziga Hame and Grace Tiebold couldn't go and view Whynew Falls themselves because, one hundred yards from the honest and accurate warning sign, they would cross an invisible border. They would walk out of the world of longitude and latitude, and into a place called simply the Place. Tziga and Grace could no more continue on to Whynew Falls than Laura's uncle Chorley could walk into the Place. Uncle Chorley, like almost everyone else, couldn't go there. Tziga and Grace were part of a tiny minority for whom the rules of the world were somewhat different.
"Come on, Grace," said Tziga. "Why should we make the girls go through all the ceremony of a Try? It's only for the benefit of the Regulatory Body, so they can see their rules en­forced. Why can't we just find out now, in a minute, in pri­vate?"
Rose wailed, "It's against the law!"
Tziga glanced at Rose, then looked back at Grace. He was a quiet man, self-contained, secretive even—but his manner had changed. His face had. Laura thought that looking at him now was like peering into a furnace—its iron doors sprung open on fire. Her father was a small man. He was a mess, as usual, his shirt rumpled and grass-stained, his cream linen jacket knotted around his waist, his hat pushed back on his dark, springy hair. Laura's aunt Grace wasn't any better turned out. Both dreamhunters were thin, tanned, and dry-skinned, as all dreamhunters became over time. Rose was al­ready taller than her spare and weathered mother. She was white and gold and vivid, like her father, Chorley, and like Chorley's sister, Laura's dead mother. Laura had, unfortu­nately, not inherited her mother's stature or coloring. She was little and dark, like her father. But—Laura thought—her father, though small and shabby, still had the aura belonging to all great dreamhunters. She liked to imagine that the aura was a residue of the dreams they'd carried. For when Tziga Hame and Grace Tiebold ventured into the Place, dreams were what they brought back with them. Dreams that were more forceful, coherent, and vivid than those supplied to all people by their sleeping brains. Dreams they could share with others. Dreams they could perform, could sell.
Laura's father was saying, "We were pioneers, Grace. You didn't 'Try,' you crept past the cairn beyond Doorhandle early one morning when there wasn't a soul on the road. Do you remember? That moment was all your own. There wasn't any­one standing by with a clipboard and contracts."
Laura saw that her aunt had gone pale. Grace stood up. Laura thought Grace meant to walk away, back toward the road, to go off in a huff and put an end to Laura's father's crazy talk. But then she saw Grace turn to look up the track toward the border.
Laura's heart gave a thump.
Her father got to his feet too.
Rose didn't move. She said, "Wait! What about our Try? You've even bought us outfits—our hats with veils."
"Rose thinks she's a debutante," Laura's father said.
"I do not!" Rose jumped up. "All right, I'll go! I'll go now! I'm not scared. I was only trying to follow the law. But if you don't care about it, why should I?"
"Good," said Laura's father. He offered his hand to Laura. She looked at it, then took it and let him help her up. She busied herself brushing dry moss from her skirt. The others began to amble slowly along the path. Laura caught up with them and gave her hand to Rose, who took it and squeezed it tight. Rose's hand was cold, much cooler than the air, which, even in the shade of the forest, was as marinated in heat as the open paddocks, the dusty roads, and the beaches of Coal Bay. Rose's hand was chilly, her palm coated with sweat.
Around the first bend was another, very similar. The track was flanked by black beech trunks. The sun angled in and lit up bright green nettles and bronze shoots of supplejack.
"I guess we won't see the Place until we're there," said Rose.
"That is right," Grace said. "There's nothing to see. No line on the ground."
Tziga said, "The border is around the next corner."
They didn't slow, or hurry. Laura felt that their progress was almost stately. She felt as though she were being escorted up the aisle, or perhaps onto a scaffold.
She didn't want to know yet. It was too soon.
In two weeks Laura and Rose were due to Try. Any person who wanted to enter the Place for the first time had to do so under the eye of an organization called the Dream Regulatory Body. The Body had been set up ten years before. It employed rangers—those who could go into the Place but couldn't carry dreams out of it—to patrol the uncanny territory and its bor­ders. The dream parlors, salons, and palaces in which work­ing dreamhunters performed had to obey laws enforced by the Regulatory Body and its powerful head, the Secretary of the Interior, Cas Doran. The parlors, salons, and palaces were businesses and had to have licenses. Dreamhunters, too, had to have licenses. A Try was the first step on the road to a license, and a livelihood.
The Body held two official Tries a year—one in early spring and one in late summer. Each Try found hundreds of teen­agers lined up at the border. It wasn't compulsory to Try, but many did as soon as they were allowed, because dreams repre­sented a guarantee of work and the possibility of wealth and fame. Any children who showed an inclination—vivid dream­ing, night terrors, a tendency to sleepwalk—were thought, by hopeful families, to have a chance at the life. A dreamhunter or ranger in the family was another indicator of potential tal­ent. More boys than girls Tried, since parents were more per­missive with boys, and the candidates were, by and large, in their midteens. The earliest age of a Try was legally set at fif­teen.
Rose and Laura had celebrated their fifteenth birthdays that summer.
Walking along the Whynew Falls track hand in hand with her cousin, Laura felt desperately unprepared for an im­promptu Try. Every night that summer as she'd put her head down on her pillow, she had mentally ticked off another day— the time narrowing between her and her life's big deciding moment. She had felt as though she were hurtling down a slope that got steeper and steeper the farther she fell. For Laura knew that, after her Try, she would either be in her father's world or remain at her school—Founderston Girls' Academy. She would have a calling or be free to continue her education, to travel, to "come out" when she was sixteen and appear at every ball that season. If she was free, Laura knew she'd inherit the Hame wealth—but not the Hame glamour. And, free, she would lose Rose, because Rose fully expected to walk into the Place, fall asleep there, dream, and carry back her dreams intact, vivid, and marvelous. For Rose had already been into the Place, had been a number of times, because Grace Tiebold had gone on catching dreams when she was pregnant with Rose. (When her sister-in-law Verity said to her, "Did you ever think that you would go there and leave the baby behind?" Grace had put a hand on her stomach and laughed at Verity—also pregnant—saying, "Oh! Darling! What a bloody thought.")
As Laura approached the bend around which her father had said the border would be, she began to drag her feet. Rose gave her hand a sharp tug. "Come on," she whispered. "Stick with me."
"Tziga," said Grace. "Just tell me this—why now? We could have tried last year, or the year before, or when they were only ten. We could have whipped them across quickly when they were really tiny, and they wouldn't even have known where they were. We would have learned whether they could cross or not, and just waited to make it official."
Laura saw her father shake his head at Grace, but he didn't answer her.
"Why do you need to know now?" Grace asked again.
Laura gave a lit...
Copyright © 2006 by Elizabeth Knox
Reviews
There are currently no reviews for this novel. Be the first to submit one! You must be logged in to submit a review in the BookTrackr section above.
Images
No alternate cover images currently exist for this novel. Be the first to submit one!