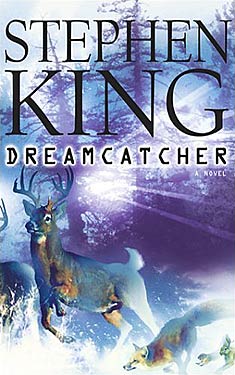 Film & Television Adaptations
Synopsis
Once upon a time, in the haunted city of Derry (site of IT and INSOMNIA), four young boys did a brave thing; something that changed them in ways they hardly understand. A quarter-century later, the boys are men who still get together once a year, to go hunting in the north woods of Maine. But this time, a man comes stumbling into their camp, lost, disoriented and muttering about lights in the sky. Before long, these old friends will be plunged into the most remarkable events of their lives and a terrible struggle with a creature from another world. Their only chance of survival is locked in their past and in the boy they once rescued as a child.
Excerpt
1993: Pete Helps a Lady in Distress
Pete sits behind his desk just off the showroom of Macdonald Motors in Bridgton, twirling his keychain. The fob consists of four enameled blue letters: NASA.
Dreams age faster than dreamers, that is a fact of life Pete has discovered as the years pass. Yet the last ones often die surprisingly hard, screaming in low, miserable voices at the back of the brain. It's been a long time since Pete slept in a bedroom papered with pictures of Apollo and Saturn rockets and astronauts and space-walks (EVAs, to those in the know) and space capsules with their shields smoked and fused by the fabulous heat of re-entry and LEMs and Voyagers and one photograph of a shiny disc over Interstate 80, people standing in the breakdown lane and looking up with their hands shielding their eyes, the photo's caption reading THIS OBJECT, PHOTOGRAPHED NEAR ARVADA, COLORADO, IN 1971, HAS NEVER BEEN EXPLAINED. IT IS A GENUINE UFO.
A long time.
Yet he still spent one of his two weeks of vacation this year in Washington, D.C., where he went to the Smithsonian's National Air and Space Museum every day and spent nearly all of his time wandering among the displays with a wondering grin on his face. And most of that time he spent looking at the moon rocks and thinking, Those rocks came from a place where the skies are always black and the silence is everlasting. Neil Armstrong and Buzz Aldrin took twenty kilograms of another world and now here it is.
And here he is, sitting behind his desk on a day when he hasn't sold a single car (people don't like to buy cars when it's raining, and it has been drizzling in Pete's part of the world ever since first light), twirling his NASA keychain and looking up at the clock. Time moves slowly in the afternoons, ever more slowly as the hour of five approaches. At five it will be time for that first beer. Not before five; no way. You drank during the day, maybe you had to look at how much you were drinking, because that's what alcoholics did. But if you could wait...just twirl your keychain and wait...
As well as that first beer of the day, Pete is waiting for November. Going to Washington in April had been good, and the moon rocks had been stunning (they still stun him, every time he thinks about them), but he had been alone. Being alone wasn't so good. In November, when he takes his other week, he'll be with Henry and Jonesy and the Beav. Then he'll allow himself to drink during the day. When you're off in the woods, hunting with your friends, it's all right to drink during the day. It's practically a tradition. It --
The door opens and a good-looking brunette comes in. About five-ten (and Pete likes them tall), maybe thirty. She glances around at the showroom models (the new Thunderbird, in dark burgundy, is the pick of the litter, although the Explorer isn't bad), but not as if she has any interest in buying. Then she spots Pete and walks toward him.
Pete gets up, dropping his NASA keychain on his desk-blotter, and meets her at the door of his office. He's wearing his best professional smile by now -- two hundred watts, baby, you better believe it -- and has his hand outstretched. Her grip Is cool and firm, but she's distracted, upset.
"This probably isn't going to work," she says.
"Now, you never want to start that way with a car salesman," Pete says. "We love a challenge. I'm Pete Moore."
"Hello," she says, but doesn't give her name, which is Trish. "I have an appointment in Fryeburg in just" -- she glances at the clock which Pete watches so closely during the slow afternoon hours -- "in just forty-five minutes. It's with a client who wants to buy a house, and I think I have the right one, there's a sizeable commission involved, and..." Her eyes are now brimming with tears and she has to swallow to get rid of the thickness creeping into her voice. "...and I've lost my goddam keys! My goddam car keys!"
She opens her purse and rummages in it.
"But I have my registration...plus some other papers...there are all sorts of numbers, and I thought maybe, just maybe, you could make me a new set and I could be on my way. This sale could make my year, Mr. -- " She has forgotten. He isn't offended. Moore is almost as common as Smith or Jones. Besides, she's upset. Losing your keys will do that. He's seen it a hundred times.
"Moore. But I answer just as well to Pete."
"Can you help me, Mr. Moore? Or is there someone in the service department who can?"
Old Johnny Damon's back there and he'd be happy to help her, but she wouldn't make her appointment in Fryeburg, that's for sure.
"We can get you new car keys, but it's liable to take at least twenty-four hours and maybe more like forty-eight," he says.
She looks at him from her brimming eyes, which are a velvety brown, and lets out a dismayed cry. "Damn it! Damn it!"
An odd thought comes to Pete then: she looks like a girl he knew a long time ago. Not well, they hadn't known her well, but well enough to save her life. Josie Rinkenhauer, her name had been.
"I knew it!" Trish says, no longer trying to keep that husky thickness out of her voice. "Oh boy, I just knew it!" She turns away from him, now beginning to cry in earnest.
Pete walks after her and takes her gently by the shoulder. "Wait, Trish. Wait just a minute."
That's a slip, saying her name when she hasn't given it to him, but she's too upset to realize they haven't been properly introduced, so it's okay.
"Where did you come from?" he asks. "I mean, you're not from Bridgton, are you?"
"No," she says. "Our office is in Westbrook. Dennison Real Estate. We're the ones with the lighthouse?"
Copyright © 2001 by Stephen King
Reviews
There are currently no reviews for this novel. Be the first to submit one! You must be logged in to submit a review in the BookTrackr section above.
Images
No alternate cover images currently exist for this novel.