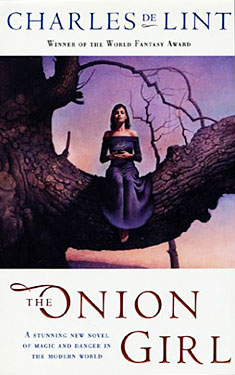 Synopsis
In novel after novel, and story after story, Charles de Lint has brought an entire imaginary North American city to vivid life. Newford: where magic lights dark streets; where myths walk clothed in modern shapes; where a broad cast of extraordinary and affecting people work to keep the whole world turning.
At the center of all the entwined lives in Newford stands a young artist named Jilly Coppercorn, with her tangled hair, her paint-splattered jeans, a smile perpetually on her lips--Jilly, whose paintings capture the hidden beings that dwell in the city's shadows. Now, at last, de Lint tells Jilly's own story...for behind the painter's fey charm lies a dark secret and a past she's labored to forget. And that past is coming to claim her now.
"I'm the onion girl," Jilly Coppercorn says. "Pull back the layers of my life, and you won't find anything at the core. Just a broken child. A hollow girl." She's very, very good at running. But life has just forced Jilly to stop.
Excerpt
Jilly
Newford, April 1999
Once upon a time...
I don't know what makes me turn. Some sixth sense, prickling the hairs at the nape of my neck, I guess. I see the headlights. They fill my world and I feel like a deer, trapped in their glare. I can't move. The car starts to swerve away from me, but it's already too late.
It's weird how everything falls into slow motion. There seems to be time to do anything and everything, and yet no time at all. I wait for my life to flash before my eyes, but all I get is those headlights bearing down on me.
There's the squeal of tires.
A rush of wind in my ears.
And then the impact.
Copyright © 2001 by Charles de Lint
Reviews
There are currently no reviews for this novel. Be the first to submit one! You must be logged in to submit a review in the BookTrackr section above.
Images
No alternate cover images currently exist for this novel.