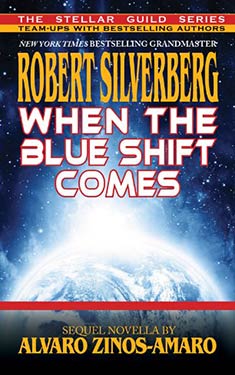 When The Blue Shift Comes
Synopsis
Life has spread across the stars, and everyone enjoys a long life. However, only those who are Earth-born are truly immortal.
But what happens when the immortals of Earth are suddenly faced with their ultimate destruction?
"The Song of Last Things" by Robert Silverberg introduces Hanosz Prime, a near-immortal (though not truly so, not being of true Earth stock) planetary ruler who abdicates his throne and travels to humanity's ancient home to meet the legendarily-beautiful Kaivilda and discover the ultimate answer to humanity's imminent end.
"The Last Mandala Sweeps" by Alvaro Zinos-Amaro comes in as a relationship is developing between Hanosz and Kaivilda. But then someone attempts to kill him. Is Kaivilda his soulmate, or a would-be murderer? And the Oracles of Earth, issuing conflicting prophecies, seem to think that he is destined to save Earth and humanity from the looming cataclysm. Can Hanosz Prime, with Kaivilda's help, avert disaster and save them all?
Excerpt
No excerpt currently exists for this novel.
Reviews
Images
No alternate cover images currently exist for this novel.