Books Reviewed on WWEnd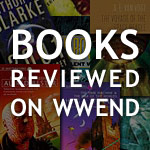 Worlds Without End has over 6,000 reviews of some of the best books in science fiction, fantasy and horror. These reviews have been submitted by our members and range from simple opinions ("This book sucked!") to well reasoned technical reviews of some of your favorite genre books. We've created this list so you can find all the reviewed books in one place and, if you're a logged in WWEnd member, you can use BookTrackr™ to easily find reviews for any of the books you've read.
Many thanks to all our contributors for your efforts! Your continued participation will keep this list growing and growing.