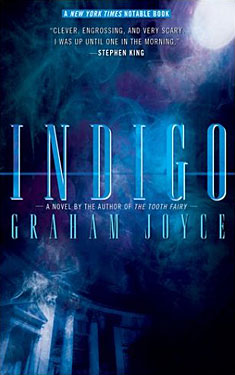 Synopsis
It is a color the human eye cannot truly see, a slice of the spectrum imbued with the promise of invisibility. But for Jack Chambers, the son of a scientist renowned as both a genius and a madman, it will lead to places of unknown treachery. As executor of his estranged-father's will, Jack is appointed two ominous tasks: publish Timothy Chambers' bizarre manuscript Invisibility: A Manual of Light, and track down an unknown woman who stands to inherit the substantial estate. Jack's mission leads him to reunite with his half-sister, Louise, now grown into a stunning woman. Bound by a tense attraction, Jack and Louise head to Rome, where a cultlike group pursues the intoxicating secrets of the elusive indigo -- and where Jack perceives its horrid danger only when it's too late.
Excerpt
O'HARE AIRPORT, CHICAGO, ONE MONTH EARLIER
A nervous flyer, Jack Chambers was on his fifth scotch and soda when the plane began its descent to O'Hare. Stewardesses made scissor-like strides up and down the aisles, too fast to be asked for another scotch. Jack drained his plastic cup, wiped his corrugated brow with a tiny lemon-scented paper towel, and settled back to fret about the Birtles matter.
It was a good time for all this to happen, he decided. He'd left behind in London only one outstanding case in a frankly declining business. He had instructed his secretary, Mrs. Price, a lady of pensionable years, to take on any new cases but to stall while he was away, and to process the Birtles case. He had neglected to tell her the circumstances under which he'd left things.
Chicago, then, early October, sunlight like salt and lime outside the terminal. Jack shivered in the crisp, cold air, feeling a little lost. Before the taxi stand was a row of curious kiosks, inside which earmuffed female attendants stared dead ahead, bored into narcosis. Like the cab drivers, they had a chopped, bruised look, as if smarting from the sharp wind. Jack would soon find that all Chicagoans looked as though they'd taken a few jabs in a boxing ring. He tapped on the tough Plexiglas window of one kiosk and a woman minimally inclined her head toward a waiting yellow taxi.
It was a long drive into Chicago, with the taxi meter ticking away to doom. A great canyon, but of glass, steel, and prestressed concrete instead of sedimentary rock, rose gradually on either side; glinting, mercurial traffic formed the riverbed. Instead of caves and hemp ladders in the canyon walls, there would be elevators and carpeted lobbies. In one of those lobbies on West Wacker Drive he met Harvey Michaelson, the man who had originally telephoned him in England.
"When I called, I wasn't aware that you didn't know. I didn't expect to be breaking news."
"We hadn't seen each other in over fifteen years. We were not close," Jack told the lawyer.
Michaelson ushered Jack into his plush, oak-paneled office. He offered him fresh coffee, sandwiches, and pastries, asked about the flight, the weather in England. He treated Jack to an account of his visit, when he was a student, to London. His largesse was so great and his manner so relaxed that Jack calculated he must be paying handsomely for Michaelson's time. He stole a glance at his watch, just to let the attorney know he knew.
Michaelson wore gold cufflinks. "As I told you on the phone, you're more of an executor than a beneficiary." In England, no one wore cufflinks anymore, neither aristocrat nor underclass; here they seemed to signal a status that went with perfectly capped teeth, smooth hair, and a polished beech nameplate on the office door. "Oh, you do get something, conditional on you overseeing the will. There's a lot to sort out."
"Bet I don't get as much as you out of this," Jack said, and Michaelson laughed, even though they both knew it wasn't a joke.
Despite being forthright about the money coming to him, Jack wasn't a callous person. He just hated his father. He didn't have a psychological complaint about this. He couldn't understand why Freud made such a fuss. Jack hated his father and assumed that his father had in turn hated his.
Michaelson said, "Extraordinary man, your father."
"He was a shit."
Michaelson laughed again, but let it die when he saw Jack wasn't rolling with it. "Not the easiest man to get along with," he conceded. "Did he give you a rough time?"
With the lawyer's eyes opened wide in anticipation of an answer Jack saw that the sockets were just a little too red: late nights in dark places. "I don't want to talk about it." Not at these prices he didn't.
But Michaelson wasn't slow. "I can relate to that. Let's check out the paperwork, shall we?"
The paperwork, when it was laid out, was considerable. Jack's role as executor of the will was complicated. In order to receive a handsome executor's fee, he had to dispose of assets and deal with some curious provisions. There was an obscure manuscript to be published with funds made available. The will also required Jack to trace someone called Natalie Shearer, who was the main beneficiary.
"I've made some initial efforts at tracking down Shearer. Want me to keep on it?"
"Please. It's too much like the work I do at home."
"Oh? What is that?"
"I'm a process server." This was close enough to the legal world for Michaelson to understand, but far enough down the ladder for him not to want to ask any more. Jack wished he hadn't mentioned it. It was like a sandwich-board man hinting to an advertising executive that they were in the same line of business.
"Interesting. This is a set of copies of all the paperwork. You'll want to go over them in your own time. Where are you staying in Chicago?"
"I came directly from the airport. I thought you might recommend an inexpensive hotel."
"The hell with that. I'll have my assistant check you into the Drake. You get to draw your expenses from the will. It's provided."
"But if I read this correctly," said Jack, "anything left over after these provisions goes to me. So it may be my money after all."
Michaelson smiled indulgently. "Then you've got to pay inheritance tax, not to mention...look here." The lawyer then explained to Jack how he could actually make money by staying in a more expensive hotel, and Jack saw why his father had employed the man in the first place.
"And if I fill the room with call girls do I make still more money?"
Michaelson blinked.
"I'm kidding," said Jack. "Really I am." That's lawyers for you, he thought: If you don't laugh at their fees, they won't laugh at your jokes.
Copyright © 1999 by Graham Joyce
Reviews
There are currently no reviews for this novel. Be the first to submit one! You must be logged in to submit a review in the BookTrackr section above.
Images
No alternate cover images currently exist for this novel.