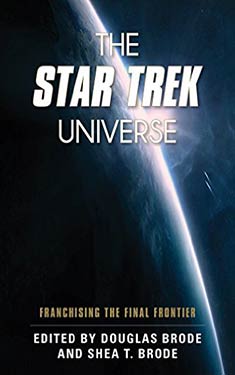 The Star Trek Universe: Franchising the Final Frontier
Synopsis
As one of the most influential shows of all time, Star Trek continues to engage fans around the world. But its cultural impact has grown far beyond the scope of the original seventy-nine episodes. The show spawned an unprecedented progeny, beginning with Star Trek: The Next Generation, followed by three additional series of space exploration. Film versions featuring Captain Kirk, Mr. Spock, and other original crew members first appeared in 1979, followed by a number of successful sequels and ultimately a reboot of the original show. From the modest ambitions of the show's creator, Gene Roddenberry, Star Trek gradually transformed into a true franchise, an expanded universe that continues to grow.
In The Star Trek Universe: Franchising the Final Frontier, Douglas and Shea T. Brode have collected several essays that examine the many incarnations that have arisen since the original program concluded its run in 1969. Every aspect of media into which Star Trek has penetrated is covered in this collection: the four television shows, literature, toys, games, and the big screen reboot of the original series featuring the Enterprise and her crew. Essays address a number of elements, particularly how the franchise has had an impact on gaming, fandom, and even technology. Other essays consider how race, gender, and sexuality have been addressed by the various shows and films.
After a half century of boldly exploring topical issues that concern all of humanity, Star Trek warrants serious attention -- now more than ever. Looking beyond the entertainment value of its many versions, The Star Trek Universe -- a companion volume to Gene Roddenberry's Star Trek -- offers provocative essays that will engage scholars of gender studies, race studies, religion, history, and popular culture, not to mention the show's legions of fans around the planet.
Table of Contents:
Introduction: Gene Roddenberry's creation as an abiding pop culture phenomenon - by Douglas Brode
Supernatural Star Trek?: Star Trek and the Re-enchantment of the World - by Murray Leeder
Holodeck History: Past, Present, and Future on the Final Frontier - by Cynthia J. Miller and A. Bowdoin Van Riper
Star Trek and the Information Age: How the Franchise Imagined/Inspired Future Technologies - by Anthony Rotolo
Forward to the Past: Miscegenation Constructs in the Star Trek Mythos - by Denise Allesandria Hurd
Science Fiction as Social Consciousness: Race, Gender, and Sexuality in Star Trek: The Next Generation - by Brian L. Ott and Eric Aoki
Radically Performing the Borg?: Gender Identity and Narratology in Star Trek - by Tama Leaver
Manifest Destiny to the Stars: New Frontiers, Old Colonialism, and Borg Assimilation - by Lynette Russell and Nathan Wolski
Resistance is Futile: Cyborgs, Humanism, and the Borg - by David J. Gunkel
Shakespeare in Space: A Trek toward Plurality - by Melanie Lo¨rke
Toward a Non-Dystopian Future: Romance and Realism in Star Trek: The Next Generation - by Rebecca Barrilleaux
Enjoying an "Original Relation to the Universe": Star Trek: The Next Generation and Emersonian Transcendentalism - by April Selley
Adaptive Harmonics: Star Trek's Universe and Galaxy of Games - by Douglas Brown
The Making of a Star Trek Video Game: Voyager: Elite Force and Creative Collaboration - by Brian Pelletier
Plastic Bodies and Lost Accessories: The Next Generation Action Figures in Relation to Their TV origins - by Jonathan Alexandratos
Fantastic Licensing: The Ongoing Mission of Trek Comic Books - by Stefan Hall
Help When Times are Hard: Bereavement and Star Trek Fan Letters - by Lincoln Geraghty
Rebooting Utopia: Reimagining Star Trek in Post-9/11 America - by Norma Jones
Excerpt
No excerpt currently exists for this novel. Be the first to submit one!

Submit an Excerpt
Reviews
There are currently no reviews for this novel. Be the first to submit one! You must be logged in to submit a review in the BookTrackr section above.
Images
No alternate cover images currently exist for this novel. Be the first to submit one!