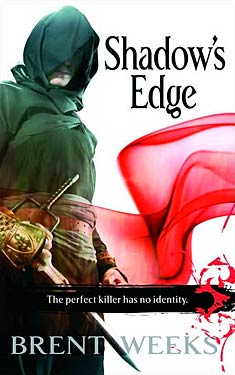 Synopsis
Kylar Stern has rejected the assassin's life. The Godking's successful coup has left Kylar's master, Durzo, and his best friend, Logan, dead. He is starting over: new city, new friends, and new profession.
But when he learns that Logan might actually be alive and in hiding, Kylar is faced with an agonizing choice: will he give up the way of shadows forever and live in peace with his new family, or will he risk everything by taking on the ultimate hit?
Excerpt
Chapter 1
We've got a contract for you," Momma K said. As always, she sat like a queen, her back straight, sumptuous dress perfect, hair immaculately coifed if gray at the roots. This morning she had dark circles under her eyes. Kylar guessed that none of the Sa'kage´'s surviving leaders had slept much since the Khalidoran invasion.
"Good morning to you, too," Kylar said, settling into the wing-backed chair in the study. Momma K didn't turn to face him, looking instead out her window. Last night's rain had quenched most of the fires in the city, but many still smoked, bathing the city in a crimson dawn. The waters of the Plith River that divided rich eastern Cenaria from the Warrens looked as red as blood. Kylar wasn't sure that was all because of the smoke-obscured sun, either. In the week since the coup, the Khalidoran invaders had massacred thousands.
Momma K said, "There's a wrinkle. The deader knows it's coming." "How's he know?" The Sa'kage´ wasn't usually so sloppy.
"We told him."
Kylar rubbed his temples. The Sa'kage´ would only tell someone so that
if the attempt failed, the Sa'kage´ wouldn't be committed. That meant the deader could only be one man: Cenaria's conqueror, Khalidor's Godking, Garoth Ursuul.
"I just came to get my money," Kylar said. "All of Durzo's--my safe houses burned down. I only need enough to bribe the gate guards." He'd been giving her a cut of his wages to invest since he was a child. She should have plenty for a few bribes.
Momma K flipped silently through sheets of rice paper on her desk and handed one to Kylar. At first, he was stunned by the numbers. He was involved in the illegal importation of riot weed and half a dozen other addictive plants, owned a racehorse, had a stake in a brewery and several other businesses, part of a loan shark's portfolio, and owned partial cargos of items like silks and gems that were legitimate except for the fact the Sa'kage´ paid 20 percent in bribes rather than 50 percent in tariffs. The sheer amount of information on the page was mind-boggling. He didn't know what half of it meant.
"I own a house?" Kylar asked.
"Owned," Momma K said. "This column denotes merchandise lost in the fires or looting." There were checks next to all but a silk expedition and one for riot weed. Almost everything he had owned was lost. "Neither expedition will return for months, if at all. If the Godking keeps seizing civilian vessels, they won't come back at all. Of course, if he were dead--"
He could see where this was going. "This says my share is still worth ten to fifteen thousand. I'll sell it to you for a thousand. That's all I need."
She ignored him. "They need a third wetboy to make sure it works. Fifty thousand gunders for one kill, Kylar. With that much, you can take Elene and Uly anywhere. You'll have done the world a good turn, and you'll never have to work again. It's just one last job."
He wavered only for a moment. "There's always one last job. I'm finished."
"This is because of Elene, isn't it?" Momma K asked.
"Momma K, do you think a man can change?"
She looked at him with a profound sadness. "No. And he'll end up hating anyone who asks him to."
Kylar got up and walked out the door. In the hallway, he ran into Jarl.
Jarl was grinning like he used to when they were growing up on the streets and he was up to no good. Jarl was wearing what must be the new fashion, a long tunic with exaggerated shoulders paired with slim trousers tucked into high boots. It looked vaguely Khalidoran. His hair was worked into elaborate microbraids capped with gold beads that set off his black skin.
"I've got the perfect job for you," Jarl said, his voice lowered, but unrepentant about eavesdropping.
"No killing?" Kylar asked. "Not exactly."
"Your Holiness, the cowards stand ready to redeem themselves," Vu¨rd- meister Neph Dada announced, his voice carrying over the crowd. He was an old man, veiny, liver-spotted, stooped, stinking of death held at bay with magic, his breath rattling from the exertion of climbing up the platform in Cenaria Castle's great yard. Twelve knotted cords hung over the shoulders of his black robes for the twelve shu'ras he'd mastered. Neph knelt with difficulty and offered a handful of straw to the Godking.
Godking Garoth Ursuul stood on the platform inspecting his troops. Front and center were nearly two hundred Graavar highlanders, tall, barrel-chested, blue-eyed savages who wore their black hair short and their mustaches long. On either side stood the other elite highland tribes that had captured the castle. Beyond them waited the rest of the regular army that had marched into Cenaria since the liberation.
Mists rose from the Plith River on either side of the castle and slid under the rusty teeth of the iron portcullises to chill the crowd. The Graavar had been broken into fifteen groups of thirteen each, and they alone had no weapons, armor, or tunics. They stood in their trousers, pale faces fixed, but sweating instead of shivering in the cool autumn morning.
There was never commotion when the Godking inspected his troops, but today the silence ached despite the thousands gathered to watch. Garoth had gathered every soldier possible and allowed the Cenarian servants and nobles and smallfolk to watch as well. Meisters in their black-and-red half- cloaks stood shoulder to shoulder with robed Vu¨rdmeisters, soldiers, crofters, coopers, nobles, field hands, maids, sailors, and Cenarian spies.
The Godking wore a broad white cloak edged with ermine thrown back to make his broad shoulders look huge. Beneath that was a sleeveless white tunic over wide white trousers. All the white made his pallid Khalidoran skin look ghostly, and drew sharp attention to the vir playing across his skin. Black tendrils of power rose to the surface of his arms. Great knots rose and fell, knots edged with thorns that moved not just back and forth but up and down in waves, pressing out from his skin. Claws raked his skin from beneath. Nor were his vir confined to his arms. They rose to frame his face. They rose to his bald scalp and pierced the skin, forming a thorny, quivering black crown. Blood trickled down the sides of his face.
For many Cenarians, it was their first glimpse of the Godking. Their jaws hung slack. They shivered as his gaze passed over them. It was exactly as he intended.
Finally, Garoth selected one of the pieces of straw from Neph Dada and broke it in half. He threw away one half and took twelve full-length pieces. "Thus shall Khali speak," he said, his voice robust with power.
He signaled the Graavar to climb the platform. During the liberation, they had been ordered to hold this yard to contain the Cenarian nobles for slaughter. Instead, the highlanders had been routed, and Terah Graesin and her nobles had escaped. That was unacceptable, inexplicable, uncharacteristic for the fierce Graavar. Garoth didn't understand what made men fight one day and flee the next.
What he did understand was shame. For the past week, the Graavar had been mucking stables, emptying chamber pots, and scrubbing floors. They had not been allowed to sleep, instead spending the nights polishing their betters' armor and weapons. Today, they would expiate their guilt, and for the next year, they would be eager to prove their heroism. As he approached the first group with Neph at his side, Garoth calmed the vir from his hands. When the men drew their straws, they must think it not the working of magic or the Godking's pleasure that spared one and condemned another. Rather, it was simple fate, the inexorable consequence of their own cowardice.
Garoth held up his hands, and together, all the Khalidorans prayed: "Khali vas, Khalivos ras en me, Khalimevirtu rapt, recu virtum defite." As the words faded, the first soldier approached. He was barely sixteen, the least fringe of a mustache on his lip. He looked on the verge of collapse as his eyes flitted from the Godking's icy face to the straws. His naked chest shone with sweat in the rising morning light, his muscles twitching. He drew a straw. It was long.
Half of the tension whooshed out of his body, but only half. The young man next to him, who looked so alike he must have been his older brother, licked his lips and grabbed a straw. It was short.
Queasy relief washed over the rest of the squad, and the thousands watching who couldn't possibly see the short straw knew that it had been drawn from their reactions. The man who'd drawn the short straw looked at his little brother. The younger man looked away. The condemned man turned disbelieving eyes on the Godking and handed him the short straw.
Garoth stepped back. "Khali has spoken," he announced. There was a collective intake of breath, and he nodded to the squad.
They closed on the young man, every one of them--even his brother--and began beating him.
It would have been faster if Garoth had let the squad wear gauntlets or use the butts of spears or the flat of blades, but he thought it was better this way. When the blood began flowing and spraying off flesh as it was pummeled, it shouldn't get on the squad's clothing. It should get on their skin. Let them feel the warmth of the young man's blood as he died. Let them know the cost of cowardice. Khalidorans did not flee.
The squad attacked with gusto. The circle closed and screams rose. 40N There was something intimate about naked meat slapping naked meat. The young man disappeared and all that could be seen was elbows rising and disappearing with every punch and feet being drawn back for new kicks. And moments later, blood. With the short straw, the young man had become their weakness. It was Khali's decree. He was no longer brother or friend, he was all they had done wrong.
In two minutes, the young man was dead.
The squad reformed, blood-spattered and blowing hard from exertion and emotion. They didn't look at the corpse at their feet. Garoth regarded each in turn, meeting the eyes of every one, and lingering on the brother. Standing over the corpse, Garoth extended a hand. The vir poked out of his wrist and extended, clawlike, ragged, and gripped the corpse's head. Then the claws convulsed and the head popped with a wet sound that left dozens of Cenarians retching.
"Your sacrifice is accepted. Thus are you cleansed," he announced, and saluted them.
They returned his salute proudly and took their places back in the formation in the courtyard as the body was dragged away.
He motioned the next squad. The next fourteen iterations would be nothing but more of the same. Though tension still arced through every squad-- even the squads who'd finished would lose friends and family in other squads--Garoth lost interest. "Neph, tell me what you've learned about this man, this Night Angel who killed my son."
Copyright © 2008 by Brent Weeks
Reviews
Images
No alternate cover images currently exist for this novel.