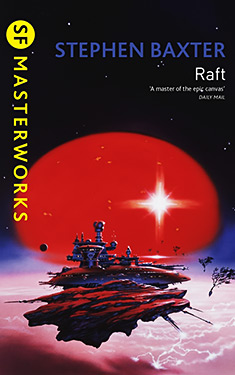 Synopsis
Stephen Baxter's highly acclaimed first novel and the beginning of his stunning Xeelee Sequence. A spaceship from Earth accidentally crossed through a hole in space-time to a universe where the force of gravity is one billion times as strong as the gravity we know. Somehow the crew survived, aided by the fact that they emerged into a cloud of gas surrounding a black hole, which provided a breathable atmosphere. Five hundred years later, their descendants still struggle for existence, divided into two main groups. The Miners live on the Belt, a ramshackle ring of dwellings orbiting the core of a dead star, which they excavate for raw materials. These can be traded for food from the Raft, a structure built from the wreckage of the ship, on which a small group of scientists preserve the ancient knowledge which makes survival possible. Rees is a Miner whose curiosity about his world makes him stow away on a flying tree -- just one of the many strange local lifeforms -- carrying trade between the Belt and the Raft.
Accepted as an apprentice scientist, he learns that their world is dying, and that in order to live these survivors must contemplate a journey even more perilous and fantastic than that of their ancestors.
Excerpt
No excerpt currently exists for this novel. Be the first to submit one!

Submit an Excerpt
Reviews
Images
No alternate cover images currently exist for this novel. Be the first to submit one!