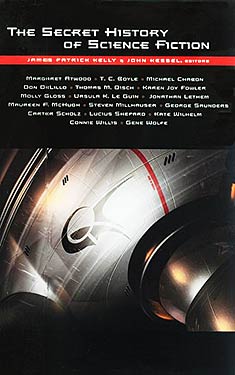 The Secret History of Science Fiction
Synopsis
Exploring an alternate history of science fiction, this ingenious anthology showcases eighteen brilliant authors leading the way to a new literature of the future. These award-winning stories defy trends, cross genres, and prove that great fiction cannot be categorized.
Two strangely detached astronauts orbit Earth while a third world war rages on. A primatologist's lover suspects her of obsession with one of her simian charges. The horrors of trench warfare dovetail with the theoretical workings of black holes. A dissolving marriage and bitter custody dispute are overshadowed by the arrival of time travelers. An astonishing invention that records the sense of touch is far too dangerous for Thomas Edison to reveal.
Contents:
Angouleme - (1971) - short story by Thomas M. Disch
The Ones Who Walk Away from Omelas - (1973) - short story by Ursula K. Le Guin
Ladies and Gentlemen, This Is Your Crisis - (1976) - short story by Kate Wilhelm
Descent of Man - (1977) - short story by T. C. Boyle
Human Moments in World War III - (1983) - short story by Don DeLillo
Homelanding - (1989) - short story by Margaret Atwood
The Nine Billion Names of God - (1984) - short story by Carter Scholz
Interlocking Pieces - (1984) - short story by Molly Gloss
Salvador - (1984) - short story by Lucius Shepard
Schwarzschild Radius - (1987) - short story by Connie Willis
Buddha Nostril Bird - (1990) - novelette by John Kessel
The Ziggurat - (1995) - novella by Gene Wolfe
The Hardened Criminals - (1996) - novelette by Jonathan Lethem
Standing Room Only - (1997) - short story by Karen Joy Fowler
1016 to 1 - (1999) - novelette by James Patrick Kelly
93990 - (2000) - short story by George Saunders
The Martian Agent, A Planetary Romance - (2003) - novelette by Michael Chabon
Frankenstein's Daughter - (2003) - short story by Maureen F. McHugh
The Wizard of West Orange - (2007) - novelette by Steven Millhauser
Excerpt
No excerpt currently exists for this novel.
Reviews
There are currently no reviews for this novel. Be the first to submit one! You must be logged in to submit a review in the BookTrackr section above.
Images
No alternate cover images currently exist for this novel.