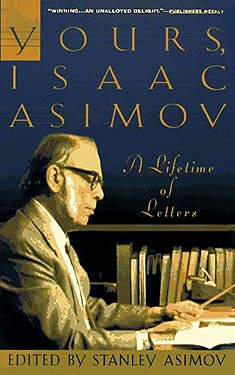 Yours, Isaac Asimov: A Lifetime of Letters
Synopsis | Excerpt | Reviews | Images
Author:
Isaac Asimov

Publisher:
Doubleday, 1995

Series:

This book does not appear to be part of a series. If this is incorrect, and you know the name of the series to which it belongs, please let us know.

Submit Series Details

Book Type:
Non-Fiction
Genre:
Science-Fiction
Sub-Genre Tags:
Awards:
Lists:
Links:
Avg Member Rating:

(1 reads / 0 ratings)
Synopsis
Isaac Asimov was one of the most prolific authors of our time. When he died in 1992 at the age of seventy-two, he had published more than 470 books in nearly every category of fiction and nonfiction. Asimov was a prodigious correspondent as well as a prolific author. During his professional career he received more than one hundred thousand letters, over ninety thousand of which he answered.
For Asimov's younger brother, veteran newspaperman Stanley Asimov, the creation of Yours, Isaac Asimov was truly a labor of love. Completed before Stanley's death in August 1995, the book is made up of excerpts from one thousand never-before-published letters, each handpicked by Stanley for inclusion in this volume. Arranged by subject and accompanied by Stanley's short, insightful introductions, here are letters to statesmen and scientists, actors and authors, as well as to children, housewives, aspiring writers, and fans the world over. The letters are warm, engaging, reasoned, and occasionally impassioned. Through them all Isaac Asimov's legendary genius, wit, and charm shine through.
And so we have Yours, Isaac Asimov: A Lifetime of Letters, an intimate glimpse into the thoughts, feelings, and opinions of a great writer and thinker of the modern age. As Stanley Asimov advised, "Read the letters carefully. One of them may have been written to you."
Excerpt
Chapter 4
Typewriters, Word Processors and Computers
Isaac loved his typewriters. Only rarely did they let him down.
30 July 1969
Last weekend, my Selectric IBM typewriter went awry just after IBM service shut down for that weekend. It hit me at 5:30 P.M. With a great deal of self-congratulation, I pushed the typewriter aside and got my backup.
About a year ago, I had paid $500 to get a second identical typewriter with an identical typeface so that when repairs were needed on one, I could use the second. I went right on, scarcely missing a stroke.
Then on Saturday, my backup typewriter went awry, and you should have heard the howl that rent the heavens when that happened. I spent the whole Sunday with two, count them, two, superbly expensive typewriters out of whack.
Even on Monday I couldn't get a repairman till 1 P.M. At 10 A.M., the doorbell rang and I ran down, expecting the guy from IBM. It was a reporter from the New York Times come to interview me--and I said sourly, "Oh, it's you."
That's no way to speak to a Times reporter. I had lots of explaining to do. Fortunately, he was good-humored about it. The repairman came at 1 P.M., administered oxygen to me and repairs to the machines.
25 October 1979
I'm a loner and a semi-recluse, and the only way I can work is as a one-person organization. Well, two, counting my typewriter.
20 May 1980
My IBM Selectric II typewriter is used every day all day. Counting first draft, second draft, correspondence, I should judge I type about 150,000 words a month.
20 December 1980
You bet I personally use the typewriter. This is coming to you on my new Selectric III (albeit one with an old-fashioned ribbon and no correcting feature, because I can't afford to stop to correct. From me they get strikeovers).
27 October 1989
I have been using a word processor since 1981, but I have never abandoned my typewriter, on which I am writing this letter.
But his trusty typewriter needed a ribbon, and Isaac hated to change them even when the print got very light.
21 May 1988
Gee, I need a new typewriter ribbon. When I was a teenager, new ribbons cost 50 cents. And I never had 50 cents. So I had to keep using old ones as long as possible. Now they cost a lot more than 50 cents. But I have lots of money and can easily buy them by the dozen and change them frequently. Old habits die hard. I still have "poor" habits.
23 March 1990
The ribbons on both my typewriter and my printer are growing dim. It is sickening. They don't make ribbons for someone like me who types day and night every day.
7 April 1989
What people should invent is a permanent ribbon that never has to be changed. If we can put a man on the Moon....
For all his reputation as a futurist Isaac was slow in accepting the use of the word processors. He loved his typewriters.
24 June 1980
I use an electric razor and a color television. However, I hang back from word processing. I'm afraid it would cut down my production.
It would make revision and editing easier, and I would possibly fall prey to both. At the present moment, editing and revision are so difficult on an ordinary typewriter that I have learned to keep both to an absolute minimum. What appears in print is generally the first (or nearly first) careless rapture. If I begin to fall into the habit of polishing I may lose in both quantity and quality.
17 June 1981
I have a word processor in the apartment and am trying to learn how to use it. It's slow going. At my age, learning new ways isn't so easy.
25 June 1981
The word processor slows me up. But I suppose with time, it may make things easier for me. I don't know. In the last analysis, my brain is still the thing that has to make up everything and arrange the words. No matter what the word processor does, it's only a tool and the same philosophically as a pencil.
An article that he wrote for SciQuest magazine was the first that he created on the word processor. He sent it to the editor with this note:
3 August 1981
I have been using my new word processor for a month now to correct and print items whose first drafts were produced on my typewriter. This is the FIRST piece that was actually composed on the word processor I estimate I saved 15 minutes but there was much more tension. I guess, though, that tension will subside with practice. Also, you've got it without typos.
Eventually, Isaac became a little more comfortable with the word processor.
9 March 1984
As for word processors, I use one. It is a Radio Shack TRS-80. I've been using it for nearly four years, and I am completely pleased with it. I only use it for short essays and for final copies of long essays and books. For the first drafts of the latter, and for correspondence and miscellaneous work, I still use my trusty typewriter.
20 June 1984
The computer hasn't affected my writing. It has speeded it up a little bit in some ways, and it turns out cleaner copy. But I still use my typewriter a lot (I'm using it for this letter), and I intend to continue using it.
It hasn't affected my research techniques or my style. There's no way it could possibly affect my productivity because long ago my rate of thinking became the bottleneck. (Thank heaven, my rate of thinking is very high.)
What about computers in general?
8 June 1978
Despite the fact that I write on computers and robots in science fiction and occasionally in science fact, my knowledge of the nuts and bolts of the subject is virtually nil.
22 October 1984
We will never be replaced by computers because they do things we're no good at (playing with figures and symbols deductively). And they can't do things we're good at (guessing, imagining, fantasying, intuiting and other inductive games). I can't conceivably program a computer to write my stories because I don't know how I write them myself.
Even the fax machine baffled him.
1 June 1990
I have trouble figuring out how to use the fax machine. (I am the world's biggest klutz in such things.) Fortunately, I do know how to drop an envelope in a mail slot.
Isaac was once asked if he thought computer disks would replace books. He replied:
19 January 1985
I have written about computers now for 30 years. But I don't think books will be eliminated in favor of computer disks. I can carry a book in my jacket pocket and read it while standing in a supermarket checkout line. Tell me what to do with a computer disk under such circumstances. Besides, anyone who has stared at a book for three hours and at a TV screen for three hours knows which is more relaxing.
Chapter 45: Being a Liberal
Politically, Isaac was a liberal--and proud of it.
31 August 1968
I'm a New Deal Democrat who believes in soaking the rich, even when I'm the rich. But I can't stand the thought that it's going for the war in Vietnam instead of for the slums, for conservation, for un-pollution and so on.
12 February 1981
I was a great admirer of FDR when he was alive. I voted for him in 1944, and I revere his memory.
3 December 1981
The "Moral Majority" (so called) is a deadly enemy to science and to free thought. I think that, at the moment, they are more powerful and more dangerous than people calling themselves Nazis.
23 November 1982
I'm a lifelong liberal, and I get uneasy when "liberal" is used as a dirty word.
Representative Newt Gingrich, the conservative Republican congressman from Georgia who is now Speaker of the House, was one of Isaac's fans. In December 1982 he visited Isaac in New York at Isaac's apartment. Several months later, Gingrich sent Isaac an advance copy of a letter that he was distributing about what Gingrich called a Second Millennium project. He asked Isaac's opinion of the letter. Isaac wrote Gingrich this reply:
18 June 1983
The letter is fine. But if you're going to rally the people of the world, for goodness' sake, you must place yourself above partisan politics. Resist poking fun at "liberal Democrats." There are a lot of them who might be on your side if you can avoid deliberately antagonizing them.
You were quoted in the New York Times as saying that for liberal Democrats to stand in horror at a budget deficit is like a saloonkeeper favoring Prohibition (or words to that effect).
Well, considering that no Democrat ever had a deficit even half as big as Reagan's, it is certainly peculiar that conservative Republicans who routinely faint at $20 billion Democratic deficits are cheerful as Punch at a $200 billion Republican deficit. It's like a hard-shell Baptist preacher getting drunk and chasing girls.
Copyright © 1995 by Isaac Asimov
Reviews
There are currently no reviews for this novel. Be the first to submit one! You must be logged in to submit a review in the BookTrackr section above.
Images
No alternate cover images currently exist for this novel. Be the first to submit one!