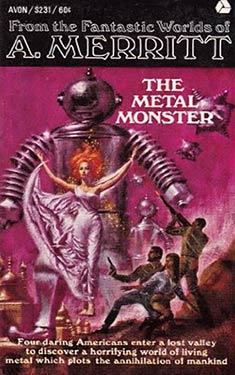 Synopsis
Dr. Walter T. Goodwin is a botanist on an expedition to examine the varieties of a certain flower which grows in the Middle East. Starting from Tehran in Persia (Iran) Goodwin plans to wander through several countries until he comes to the Himalayas in Tibet. While in a valley in the Himalayas Goodwin comes upon Richard Drake, the son of an old friend who has recently died. Liking one another they decide to combine their expeditions and see where fate leads them. One evening they witness the light of the setting sun behaving oddly. Goodwin offers the explanation that it is the result of some unusual atmospheric effect, but Drake remarks that it almost seemed to be orchestrated by some intelligent force. That night the two hear strange noises, but do not see the source of the sound. The next day they come upon what seems to be a huge footprint from a creature of great weight. Later the same day the two explorers come upon Martin and Ruth Ventnor hiding in the ruins of a stone fortress. This brother and sister are trying to escape from soldiers who fantastically seem to be a throwback to time of Darius, complete with armor, swords and bows and arrows. The four flee from these ancient Persian worriers but are almost captured, when, appearing out of nowhere, an other-worldly woman and a shape-changing metal monster come to their aid. The soldiers are gruesomely annihilated. The strange woman's name is Norhala. Is Norhala the four's savior, or is she an even more dangerous enemy? Even more, what is the nature and secret of the metal monster?
Excerpt
No excerpt currently exists for this novel.
Reviews
There are currently no reviews for this novel. Be the first to submit one! You must be logged in to submit a review in the BookTrackr section above.
Images
No alternate cover images currently exist for this novel.