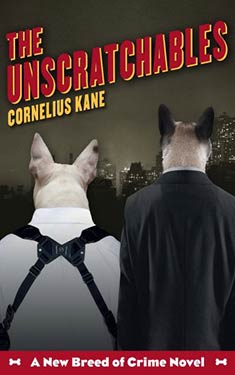 Synopsis
Animal Farm meets The Simpsons in this inventive twist on the hard-boiled detective novel, featuring a world made up exclusively of cats, dogs, and one ruthless fox...
Bull terrier Crusher McNash ia s no-nonsense homicide detective who eats out of the can and only bathes when his boss orders him to. He's just been thrown a bone about a gruesome case involving Rottweilers torn abart by a savage killer, and the only lead he's been able to sniff out is "an impression of movement" at the murder scene. Crusher suspects the killer is a cat, and there is nothing he hates more than "the whole cream-lapping, wool juggling, pajama-wearing, fence-sitting, bird-torturing, furball-coughing lot of them." But he'll have to start barking up a diffrent tree if he wants help solving this case as his partner on this case is soymilk-drinking, pressed suit-wearing Cassius Lap, an agent for the FBI (Feline Bureau of Investigation).
As this odd couple puts their paws together, their investigation takes them from the bowels of the kennel into the tony streets of Kathattan. Soon, they begin to uncover a vast conspiracy involving a cat who has been trained as a super killer, capable of growing in size and ferocity and killing any dog who gets in his way - and who may be working for a media baron fox. But they'll need to unravel the conspiracy, and quickly, if they want to stop the next killing before it's too late.
Witty and irresistibly entertaining, this genre-bending mystery bodly mixes human and animal sensibilities in an entertaining satire of our cur-rent society.
Excerpt
No excerpt currently exists for this novel. Be the first to submit one!

Submit an Excerpt
Reviews
Images
No alternate cover images currently exist for this novel. Be the first to submit one!