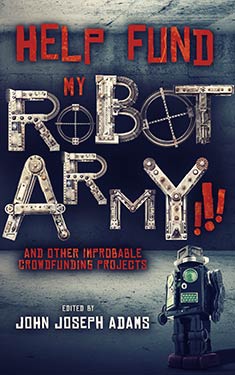 Help Fund My Robot Army!!! and Other Improbable Crowdfunding Projects
Synopsis
If you're a regular backer of Kickstarters, you've probably seen some unique crowdfunding projects in your time. But one thing all of those campaigns--boringly!--had in common was: They abided by the physical laws of the universe!
HELP FUND MY ROBOT ARMY!!! is an anthology of science fiction/fantasy stories told in the form of fictional crowdfunding project pitches, using the components (and restrictions) of the format to tell the story. This includes but is not limited to: Project Goals, Rewards, User Comments, Project Updates, FAQs, and more. The idea is to replicate the feel of reading a crowdfunding pitch, so that even though the projects may be preposterous in the real world, they will feel like authentic crowdfunding projects as much as possible.
The anthology features original, never-before-published fiction by Bradley Beaulieu , Veronica Belmont, Brooke Bolander, Maurice Broaddus, Tobias S. Buckell, Harry Connolly, Monte Cook, Matt Forbeck, Jason Gurley, Kat Howard, Jonathan L. Howard, Vylar Kaftan, Jake Kerr, Mary Robinette Kowal, Mur Lafferty, David D. Levine, Heather Lindsley, Carmen Maria Machado, David Malki!, Seanan McGuire, Samuel Peralta, Tim Pratt, Andy Penn Romine, Scott Sigler, Michael J. Sullivan, Jeremiah Tolbert, Genevieve Valentine, Derek Van Gorder, Chuck Wendig, Matt Williamson, Daniel H. Wilson, and Sylvia Spruck Wrigley. Plus, a reprint of the eponymous story that inspired the anthology by Keffy R.M. Kehrli, for a total of 33 crowdfunding-style stories.
So if what you've always been looking for in a Kickstarter--and couldn't find--was a project that allowed you to protect yourself from spoilers, buy wishes, find lost objects, or support a wildlife preserve for supernatural creatures, then HELP FUND MY ROBOT ARMY!!! & Other Improbable Crowdfunding Projects may be just the thing you've been looking for.
Table of Contents:
Introduction - essay by John Joseph Adams
Formatting Note - essay by John Joseph Adams
Help Fund My Robot Army!!! - (2013) - shortstory by Keffy R. M. Kehrli
For Entertainment Purposes Only - shortstory by Jeremiah Tolbert
Zero G R&J - shortstory by Mary Robinette Kowal
A Memorial to the Patriots - shortstory by Jake Kerr
I Want to Be a Lioness - shortstory by Chuck Wendig
Liberty: Seeking Support for a Writ of Habeas Corpus for a Non-Human Being - shortstory by Samuel Peralta
Help Summon the Most Holy Folded One! - shortfiction by Harry Connolly
Fulfill My Destiny-And Save the World! - shortstory by Matt Forbeck
LARPing the Apocalypse 2: The Nano-Plague - shortstory by Tim Pratt
Fund Taphognosis Industries - shortstory by Tobias S. Buckell
Catassassins! - shortstory by Veronica Belmont
Finder of Lost Things - shortstory by Monte Cook
Prima Nocta Detective Agency Needs You - shortstory by Genevieve Valentine
So Juicy Transforming Strips - shortstory by Matt Williamson
The Spirit of Mars: Fund a Sacred Journey to the Red Planet - shortstory by Andrew Penn Romine
Flashed Forward - shortstory by Bradley P. Beaulieu
Help Me Follow My Sister into the Land of the Dead - shortstory by Carmen Maria Machado
Be Careful What You Wish For - shortstory by Michael J. Sullivan
A Practical Mechanism for Overcoming the Directionality of Temporal Flow - shortstory by David D. Levine
Life-Sized Arena Tetris! - shortstory by David Malki !
Zippers - shortstory by Derek Van Gorder
I Used to Love H.E.R. - shortstory by Maurice Broaddus
Locally Grown, Organic - shortstory by Kat Howard
Let's Keep Burt Grimsby's Head Frozen! - shortstory by Heather Lindsley
Jerome 3.0 - shortstory by Jason Gurley
Help Me Destroy Cannes! - shortstory by Jonathan L. Howard
Save the Photophobic Hemoglobivores with the Sanguine Reserve! - shortstory by Mur Lafferty
Nosferatu, Brutus? - shortstory by Scott Sigler
Updates - shortstory by Vylar Kaftan and Shannon Prickett
You Only Live Once - shortstory by Sylvia Spruck Wrigley
Mechanical Animals - shortstory by Brooke Bolander
Kismet™ - shortstory by Daniel H. Wilson
Bring About the Halloween Eternal!!! - shortstory by Seanan McGuire
Acknowledgments - essay by uncredited
About the Editors - essay by uncredited
Excerpt
No excerpt currently exists for this novel. Be the first to submit one!

Submit an Excerpt
Reviews
There are currently no reviews for this novel. Be the first to submit one! You must be logged in to submit a review in the BookTrackr section above.
Images
No alternate cover images currently exist for this novel. Be the first to submit one!