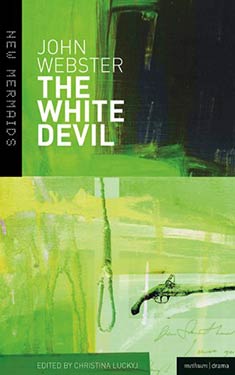 Synopsis
Count Lodovico is banished from Rome for debauchery and murder; his friends promise to work for the repeal of his sentence. The Duke of Brachiano has conceived a violent passion for Vittoria Corombona, daughter of a noble but impoverished Venetian family, despite the fact they are both married to other people. Vittoria's brother Flamineo, employed as a secretary to Brachiano, has been scheming to bring his sister and the Duke together in the hope of advancing his career. The plan is foiled by the arrival of Brachiano's wife Isabella, escorted by her brother and Cardinal Monticelso. They are both outraged by the rumours of Brachiano's infidelity and set out to encourage him to make the affair open; before that happens Brachiano and Flamineo arrange to have Camillo (Vittoria's husband) and Isabella murdered.
Vittoria is put on trial for the murder of her husband and although there is no real evidence against her, she is condemned by the Cardinal to imprisonment in a convent for penitent whores. Flamineo pretends madness to protect himself from awkward suggestions. The banished Count Lodovico is pardoned and returns to Rome: confessing he had been secretly in love with Isabella, he vows to avenge her death. Isabella's brother Francisco also plots revenge. He pens a love letter to Vittoria, which falls into the hands of Brachiano. It fuels his jealousy and forces him to elope with Vittoria. Cardinal Monticelso is elected Pope and as his first act he excommunicates Vittoria and Brachiano.
Vittoria and Brachiano, now married, hold court in Padua. Three mysterious strangers have arrived to enter Brachiano's service. These are Francisco, disguised as Mulinassar a Moor and Lodovico and Gasparo, disguised as Capuchin monks, all conspiring to avenge Isabella's death. They begin their revenge by poisoning Brachiano. As he is dying, Lodovico and Gasparo reveal themselves to him. Next Zanche, Vittoria's Moorish maid, who has fallen in love with her supposed countryman Mulinassar, reveals to him the murders of Isabella and Camillo and Flamineo's part in them.
Flamineo is banished from court by Giovanni, the new Duke, and sensing that his crimes are catching up with him he goes to see Vittoria. He tries to persuade her and Zanche to shoot each other. Vittoria and Zanche shoot Flamineo and thinking him dead, exult in his death and their escape. Much to their surprise Flamineo rises from the 'dead' and reveals to them the pistols were not loaded. While trying to exact his own revenge on Vittoria, Lodovico and Gasparo then enter the scene and complete their revenge by killing them. Giovanni and officers come to the scene and the play ends with Giovanni sending Lodovico off to torture.
Excerpt
No excerpt currently exists for this novel. Be the first to submit one!

Submit an Excerpt
Reviews
There are currently no reviews for this novel. Be the first to submit one! You must be logged in to submit a review in the BookTrackr section above.
Images
No alternate cover images currently exist for this novel. Be the first to submit one!