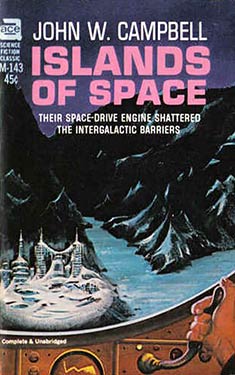 Synopsis
The second book - and first full-length novel - featuring Arcot, Wade & Morey, the Three Gadgeteers of space science. Following the repulsion of the invading Black Star, the threesome put together a faster-than-light spaceship, and find: The fugitive planets of the Black Star; A frozen cemetary-world of a lost race; And a knock-down, drag-out interplanetary war in another galaxy!
Excerpt
The Ancient Mariner was built in the big Transcontinental shops in Newark; the power they needed was not available in the smaller shops.
Working twenty-four hours a day, in three shifts, skilled men took two months to finish the hull according to Fuller's specifications. The huge walls of lux metal required great care in construction, for they could not be welded; they had to be formed in position. And they could only be polished under powerful magnets, where the dense magnetic field softened the lux metal enough to allow a diamond polisher to do the job.
When the hull was finished, there came the laborious work of installing the power plant and the tremendous power leads, the connectors, the circuits to the relays--a thousand complex circuits.
Much of it was standard: the molecular power tubes, the molecular ray projectors, the power tubes for the invisibility apparatus, and many other parts. All the relays were standard, the gyroscopic stabilizers were standard, and the electromagnetic braking equipment for the gyros was standard.
But there would be long days of work ahead for Arcot, Wade, and Morey, for only they could install the special equipment; only they could put in the complicated wiring, for no one else on Earth understood the circuits they had to establish.
During the weeks of waiting, Arcot and his friends worked on auxiliary devices to be used with the ship. They wanted to make some improvements on the old molecular ray pistols, and to develop atomic powered heat projectors for hand use. The primary power they stored in small space-strain coils in the handgrip of the pistol. Despite their small size, the coils were capable of storing power for thirty hours of continuous operation of the rays. The finished weapon was scarcely larger than a standard molecular ray pistol.
Copyright © 1956 by John W. Campbell, Jr.
Reviews
Images
No alternate cover images currently exist for this novel.