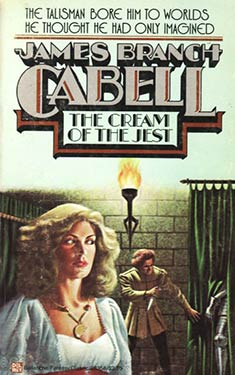 Synopsis
MUCH has been written critically about Felix Kennaston since the disappearance of his singular personality from the field of contemporary writers; and Mr. Froser's Biography contains all it is necessary to know as to the facts of Kennaston's life. Yet most readers of the Biography, I think, must have felt that the great change in Kennaston no long while after he "came to forty year"-- this sudden, almost unparalleled, conversion of a talent for tolerable verse into the full-fledged genius of Men Who Loved Alison -- stays, after all, unexplained....
Hereinafter you have Kennaston's own explanation. I do not know but that in hunting down one enigma it raises a bevy; but it, at worst, tells from his standpoint honestly how this change came about. You are to remember that the tale is pieced together, in part from social knowledge of the man, and in part from the notes I made as to what Felix Kennaston in person told me, bit by bit, a year or two after events the tale commemorates. I had known the Kennastons for some while, with that continual shallow intimacy into which chance forces most country people with their near neighbors, before Kennaston ever spoke of -- as he called the thing -- the sigil. And, even then, it was as if with negligence he spoke, telling of what happened -- or had appeared to happen -- and answering my questions, with simply dumbfounding personal unconcern. It all seemed indescribably indecent: and I marveled no little, I can remember, as I took my notes....
Now I can understand it was just that his standard of values was no longer ours nor really human. You see -- it hardly matters through how dependable an agency -- Kennaston no longer thought of himself as a man of flesh-and-blood moving about a world of his compeers. Or, at least, that especial aspect of his existence was to him no longer a phase of any particular importance. But to tell of his thoughts, is to anticipate. Hereinafter you have them full measure and, such as it is, his story. You must permit that I begin it in my own way, with what may to you at first seem dream-stuff. For I commence at Storisende, in the world's youth, when the fourth Count Emmerick reigned in Poictesme, having not yet blundered into the disfavor of his papal cousin Adrian VII....
With such roundabout gambits alone can some of us approach -- as one fancy begets another, if you will -- to proud assurance that life is not a blind and aimless business; not all a hopeless waste and confusion; and that we ourselves may (by-and-by) be strong and excellent and wise. Such, in any event, is the road that Kennaston took, and such the goal to which he was conducted. So, with that goal in view, I also begin where he began, and follow whither the dream led him. Meanwhile, I can but entreat you to remember it is only by preserving faith in human dreams that we may, after all, perhaps some day make them come true.
Table of Contents:
About The Cream of the Jest and James Branch Cabell: The Dream Talisman - (1971) - essay by Lin Carter
Author's Note - (1929) - essay by James Branch Cabell
The Cream of the Jest - (1917) - novel by James Branch Cabell
The Lineage of Lichfield - (1922) - novella by James Branch Cabell
Excerpt
No excerpt currently exists for this novel. Be the first to submit one!

Submit an Excerpt
Reviews
There are currently no reviews for this novel. Be the first to submit one! You must be logged in to submit a review in the BookTrackr section above.
Images
No alternate cover images currently exist for this novel. Be the first to submit one!