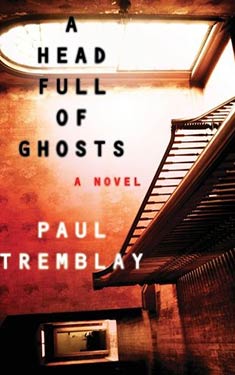 Synopsis
A chilling thriller that brilliantly blends domestic drama, psychological suspense, and a touch of modern horror, reminiscent of Mark Z. Danielewski's House of Leaves, John Ajvide Lindqvist's Let the Right One In, and Shirley Jackson's The Haunting of Hill House.
The lives of the Barretts, a normal suburban New England family, are torn apart when fourteen-year-old Marjorie begins to display signs of acute schizophrenia.
To her parents' despair, the doctors are unable to stop Marjorie's descent into madness. As their stable home devolves into a house of horrors, they reluctantly turn to a local Catholic priest for help. Father Wanderly suggests an exorcism; he believes the vulnerable teenager is the victim of demonic possession. He also contacts a production company that is eager to document the Barretts' plight. With John, Marjorie's father, out of work for more than a year and the medical bills looming, the family agrees to be filmed, and soon find themselves the unwitting stars of The Possession, a hit reality television show. When events in the Barrett household explode in tragedy, the show and the shocking incidents it captures become the stuff of urban legend.
Fifteen years later, a bestselling writer interviews Marjorie's younger sister, Merry. As she recalls those long ago events that took place when she was just eight years old, long-buried secrets and painful memories that clash with what was broadcast on television begin to surface--and a mind-bending tale of psychological horror is unleashed, raising vexing questions about memory and reality, science and religion, and the very nature of evil.
Excerpt
My stuffed animal companions became my sentries, strategically placed around the room. I turned my cardboard house so the mail slot faced my bedroom door. I spent the rest of that weekend in the house, looking out through the slot, totally convinced that Marjorie would be back to apologize, or to prove that she could sneak in whenever she wanted, or to steal my books again, or something worse, like her coming into my cardboard house to rearrange my drawings in the awful way she'd done with her own posters. I was good at imagining the somethings worse.
With each passing minute that she didn't come into my room, I grew more frantic and paranoid and convinced that she was indeed coming. So I rigged my bedroom to try to catch her in the act. Wouldn't she be in trouble with Mom and Dad then, given how much of a surly-teen stink she put up whenever I went near her room. I took the belt from my fuzzy purple robe that I never used and tied the ends to a bedpost and the doorknob. The belt had just enough slack that my bedroom door opened so only someone my size could wiggle safely through. I also balanced an empty plastic orange juice jug on top of the slightly open door so that it leaned against the doorframe. If the door opened beyond the constraints of my robe belt, the jug would crash to the ground, or better yet, on the door opener's head. No way would Marjorie sneak in without getting stuck or making enough of a ruckus to be heard by me.
I didn't feel 100 percent safe so I built motion-detecting surveillance cameras and a laptop computer out of cereal boxes. I spent Sunday morning conducting quite a few background checks on one Miss Marjorie Barrett. Oh, the things I found.
Despite Marjorie's promise to tell me a real, made-up story the following day, I would make her wait this time. I would make her come to me. So I stayed in my room and only ventured out for food and bathroom breaks.
Still not satisfied, I built a tower of books with All Around the World and Cars and Trucks and Things That Go as part of the foundation. To remove either book without everything crashing down would be impossible. I tried it twice and earned a bruise on my thigh from one of the falling books.
When I woke up Monday morning, Marjorie was already in the shower and my parents were loudly stumbling and mumbling about the house. I slowly sat up and a folded piece of paper tumbled off my chest.
I flung the covers off me and checked for security breaches. The robe belt was still tied and the empty orange juice jug was in place. My stuffed animals were still on watch. I scolded them for falling asleep on the job. I checked my cameras and laptop. Nothing. My tower of books was intact, but All Around the World was gone, stolen, and replaced with Oh, the Places You'll Go by Dr. Seuss. Did she just yank the book out and stuff in the replacement without the tower falling? Did she patiently break down the book tower piece by piece to get to the book and then rebuild? Maybe I forgot to put the book back after one of my structural integrity tests, but no, All Around the World wasn't anywhere else in my room.
I stormed into my cardboard house and I opened the folded note she'd left on my chest. Surely, it was from Marjorie and not Mom or Dad, though Dad was an occasional trickster if he was in a good mood.
It was written in green crayon.
I sneak into your room when you are asleep, Merry-monkey. I've been doing it for weeks now, since the end of summer. You're so pretty when you're asleep. Last night, I pinched your nose shut until you opened your little mouth and gasped.
Tonight it's your turn. Sneak out to my room, after you're supposed to be in bed, and I'll have a new made-up story ready for you. Pictures and everything. It'll be so much fun! Please stop being mad at me and do this.
xoxo
Marjorie
Copyright © 2015 by Paul Tremblay
Reviews
Images
No alternate cover images currently exist for this novel.