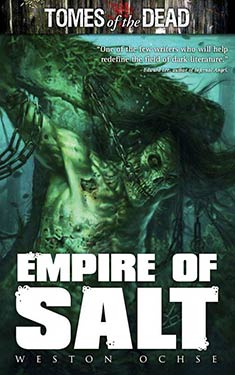 Synopsis
A DREAD TIDE!
The Olivers have a chance to make a new home by the Salton Sea. Looking forward to Californian fun, sun and adventure they are unprepared for the ecological devastation they find. The sea is rotting, the town of Bombay Beach is dying and the citizens are like bait, waiting to be plucked from their homes by what comes from the sea. For just off the coast something lies in wait, a government secret gone wrong, a deadly experiment that has created a breed of zombie like no other. Beware the coming of the green, the townsfolk say. Beware the coming of the night!
Excerpt
"Sorry, Frank. No more fish."
Frank stared over his empty beer glass al Lazlo Oliver, the bartender and owner of the Space Station Restaurant. Frank's used car salesman expression melted. His eyes narrowed. His grin receded, exposing a mouthful of broken and grimy teeth. "What do you mean, no more fish?"
"No more. Sorry, Frank." Lazlo squared his sholders. At six foot three, he was a big man and, for all of his seventy years, still in pretty good shape. He hoped there'd be no trouble, but with Frank you never knew. Sometime the drunk would teeter off into the night, and sometimes he'd go off like a roadside bomb. One just never knew.
"But it's fresh fish. It's real fresh, Laz." Frank reached down and jerked a string of tilapia from a battered styrofoam cooler and held them over the bar. The years slipped away as he grinned like a teenaged boy, proud of the day's catch. A full head of unruly brown hair atop a creased and creviced deeply-tanned face - somewhere between a hard-drinking thirty and sixty - told this man's tale as someone who'd spent his life in the sun.
Lazlo examined the milk white eyes of the three tilapia, mouths gaping around the waxed yellow stringer. The scales were still a mosaic of bright greens. Sometimes Frank would get red tide fish he found rotting on the beach and try to pass them off as freshly caught. Not this time. These had been caught this afternoon, probably between Frank waking after passing out last night and this evening's dinner and beer. Such was Frank's drunken cycle: drink, sleep, fish, drink, sleep, fish.
"Listen, Frank. I'd love to take your fish, I really would, but I have three freezers full of the damned things and, if I were to bet, half of them would be from you. Honestly, Frank, I have fish coming out my eyeballs."
Frank looked back and forth from his fish to the bartenderat this unfathomable turn of events. For a moment he seemed as if he were going to cry. His mouth formed a little circle.
Lazlo stpped away and wiped down the bar. Gertie was in the kitchen. By the looks of it, she had almost finished closing down for the night. Business had been brisk until dark, then had fallen off as usual, leaving only locals and the occasional tourist too stunned by the reality of the Salton Sea to know that they never should have stpped here.
He poured a fresh beer for Andy, their local draft. The man claimed to be a rocket scientist but looked more like a mad scientist. The only thing more guaranteed than Frank trying to trade fish for beer was Andy sitting in his usual spot, mumbling to himself, doodling in his little notebook as he sat with his ever-present tortoiseshell glasses and clothes - a wrinkled conspiracy of a white laboratory coat over an Hawaiian shirt, shorts and flip flops.
Copyright © 2010 by Weston Ochse
Reviews
Images
No alternate cover images currently exist for this novel. Be the first to submit one!