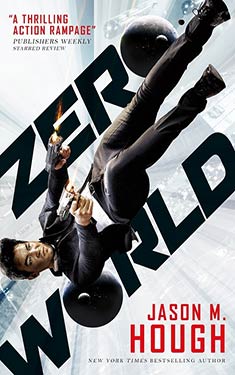 Synopsis
Technologically enhanced superspy Peter Caswell has been dispatched on a top-secret assignment unlike any he's ever faced. A spaceship that vanished years ago has been found, along with the bodies of its murdered crew -- save one. Peter's mission is to find the missing crew member, who fled through what appears to be a tear in the fabric of space. Beyond this mysterious doorway lies an even more confounding reality: a world that seems to be Earth's twin.
Peter discovers that this mirrored world is indeed different from his home, and far more dangerous. Cut off from all support, and with only days to complete his operation, Peter must track his quarry alone on an alien world. But he's unprepared for what awaits on the planet's surface, where his skills will be put to the ultimate test -- and everything he knows about the universe will be challenged in ways he never could have imagined.
Includes the complete bonus novella The Dire Earth, a prequel to the bestselling sci-fi adventure The Darwin Elevator.
Excerpt
Now came the moment of truth. Clear conscience or not, there was one thing he simply had to know. He went to the kitchenette and gripped the handle of the fridge. Steeling himself against what lay within, he pulled the door open. White Light bathed him from inside, along with a rush of frigid air that brought goose bumps to his skin.
The space was completely empty save for the one thing he always made sure they stocked for him: exactly twelve bottles of Sapporo beer. They were in a neat row across the top shelf, from one side to the other. Each had its famous label facing him, save for the last three on the end Those three were turned to face away.
Peter Caswell felt his stomach tighten. Over the last few days, under the Integrity-Assured status his implant provided, he'd killed three people. All memory of this had just been deleted. Since he'd come up with this way to keep track a decade ago, he'd now assasinated a total of 206 human beings, and the only thing he knew about any of it was the number. That's all he wanted to know.
Copyright © 2015 by Jason M. Hough
Reviews
There are currently no reviews for this novel. Be the first to submit one! You must be logged in to submit a review in the BookTrackr section above.
Images
No alternate cover images currently exist for this novel.