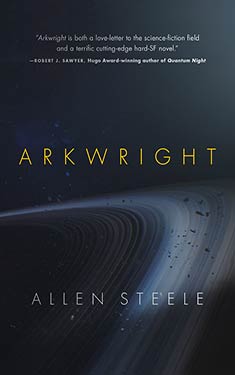 Synopsis
Written by a highly regarded expert on space travel and exploration, Allen Steele's Arkwright features the precision of hard science fiction with a compelling cast of characters. In the vein of classic authors such as Robert Heinlein, Isaac Asimov, and Arthur C. Clarke, Nathan Arkwright is a seminal author of the twentieth century. At the end of his life he becomes reclusive and cantankerous, refusing to appear before or interact with his legion of fans. Little did anyone know, Nathan was putting into motion his true, timeless legacy.
Convinced that humanity cannot survive on Earth, his Arkwright Foundation dedicates itself to creating a colony on an Earth-like planet several light years distant. Fueled by Nathan's legacy, generations of Arkwrights are drawn together, and pulled apart, by the enormity of the task and weight of their name.
This is classic, epic science fiction and engaging character-driven storytelling, which will appeal to devotees of the genre as well as fans of current major motion pictures such as Gravity and Interstellar.
Excerpt
1
When Kate Morressy's grandfather died on October 5, 2006, his passing made the front page of the next morning's Boston Globe. The headline -- NATHAN ARKWRIGHT, SCIENCE FICTION PIONEER, DIES -- appeared in the bottom-right corner below the fold, and it was the first thing Kate saw when she picked up the paper from the front stoop of her Cambridge apartment house.
Still wearing her robe, Kate stared at the newspaper in her hand for a long time before she carried it back into her apartment. Pausing to pour her first cup of coffee, she lay the paper down on the kitchen table and read the lead:
Nathan Arkwright, the science fiction author best known as creator of the Galaxy Patrol, died Thursday at his home in Lenox, Massachusetts.
Arkwright, 85, is considered to be one of the "Big Four" sci-fi writers of the twentieth century, along with Robert A. Heinlein, Isaac Asimov, and Arthur C. Clarke. His 23 novels and five collections of short stories have been translated into dozens of languages and have sold millions of copies worldwide, and many readers credit him with sparking their interest in science.
Arkwright's most famous creation was the Galaxy Patrol. Beginning in 1950 with the novel of the same title, it became a long-running series of space adventures that eventually consisted of 17 novels until its final installment, Through the Event Horizon, appeared in 1988. The Galaxy Patrol was the basis for a radio drama, a CBS television series, three major motion pictures, and a daily comic strip. Many astronauts claim that they were inspired by the Galaxy Patrol, and a complete set of the novels is aboard the International Space Station.
Born March 18, 1921, in Brooklyn, New York, Nathan Arkwright was...
Kate stopped reading. She ran a hand through her sleep-tangled red hair, slowly let out her breath, and then picked up the phone. Her mother lived in Milton, just south of Boston, and she was already up when Kate called.
"Grandpapa's dead," Kate said when her mother picked up the phone.
"Yes, he is." Very matter-of-fact, as if she'd just been given the weather forecast.
"I found out about it from the paper. Why didn't you call me?"
"I tried, but you were out of town."
"I was in Vermont." Kate glanced at the phone. Its message center displayed a zero, just as it had late last night when she'd returned home. "You didn't leave a message. You could have called my cell."
"How was Vermont? It's lovely this time of year, when the leaves are changing."
"Mom..." Kate shut her eyes and tried to count to ten but only made it to three. "Don't you think I would've cared that Grandpapa passed away?"
"Well, maybe you would, but..."
Sylvia Arkwright Morressy didn't finish the thought, and she didn't need to. She had stopped speaking to her father before Kate was born, for reasons that she'd never made clear. Indeed, Kate had met her grandfather only a few times in her life. The last occasion had been when she was a student at Dartmouth. Her boyfriend at the time, upon discovering that she was the granddaughter of Nathan Arkwright, had badgered her into driving down from New Hampshire so he could meet the famous author. They were met at the front door by the housekeeper, who allowed them to come in only so far as the front hall, where they waited until Grandpapa emerged from his study. He obligingly signed the boyfriend's wrinkled paperback copy of The Galaxy Patrol and then ushered the two college students who'd dropped in uninvited back out to the driveway, where Kate's secondhand Volvo was parked. Her mother had been outraged that Kate would do this, and Kate herself was embarrassed. That was eight years earlier ... no, more like nine ... and she'd stayed away from Grandpapa ever since.
"Are you going to the funeral?" Kate asked.
A pause. "No."
"Mom--"
"You can go if you'd like. Maybe there'll be someone you'll know."
Kate knew what her mother meant by this. Her grandmother had passed away before she was born; so as far as she knew, there were no other living members of his immediate family. "It would have been nice if you'd told me."
"I didn't find out until his agent called." Her tone hardened even further. "Her name's Margaret. Tell her I said hello."
Until she said that, Kate hadn't given much thought to attending her grandfather's funeral. Grandpapa was very nearly a stranger, a member of her family in name only. But her mother's indifference resolved the matter; she'd make the trip to Lenox because Nathan Arkwright's only child refused to do so.
"I will," she said.
"Very well, if you think must. Let me know if he left us anything. I kind of doubt it, but he might."
"I--" Kate bit off a response that wouldn't have done either of them any good. "Bye, Mom," she said instead, and she hung up.
Copyright © 2016 by Allen Steele
Reviews
Images
No alternate cover images currently exist for this novel. Be the first to submit one!