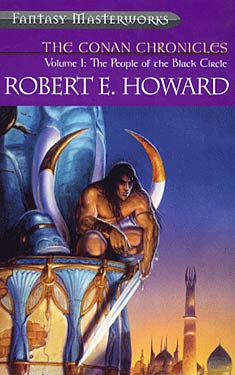 The Conan Chronicles, Volume 1: The People of the Black Circle
Film & Television Adaptations
Synopsis
Conan the Cimmerian: he rose from boy-thief and mercenary to become kingof Aquilonia. Neither supernatural fiends nor demonic sorcery could oppose the barbarian warrior as he wielded his mighty sword and dispatched his enemies to a bloody doom on the battlefields of the legendary Hyborian Age.
Collected together for the first time anywhere in the world, in chronological order, are all Robert E. Howard's definitive stories of Conan, exactly as he wrote them, as fresh, atmospheric and vibrant today as when they were first published in the pulp magazines more than sixty years ago.
Table of Contents:
The Hyborian Age - (1936)
The Tower of the Elephant - (1933)
The Hall of the Dead (Synopsis) - (1976)
The God in the Bowl - (1952)
Rogues in the House - (1934)
The Hand of Nergal - (1976)
The Frost-Giant's Daughter - (1976)
Queen of the Black Coast - (1934)
The Vale of Lost Women - (1967)
The Snout in the Dark (Draft) - (1979)
Black Colossus - (1933)
Shadows in the Moonlight - (1934)
A Witch Shall Be Born - (1934)
Shadows in Zamboula - (1935)
The Devil in Iron - (1934)
The People of the Black Circle - (1934)
The Slithering Shadow - (1933)
Drums of Tombalku (Draft) - (1986)
The Pool of the Black One - (1933)
Afterword: Robert E. Howard and Conan: The Early Years - essay by Stephen Jones
Excerpt
No excerpt currently exists for this novel. Be the first to submit one!

Submit an Excerpt
Reviews
Images
No alternate cover images currently exist for this novel. Be the first to submit one!