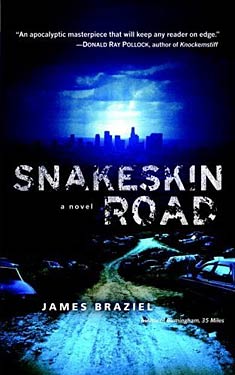 Snakeskin Road
Author:
James Braziel

Publisher:
Bantam UK, 2009

Series:

This book does not appear to be part of a series. If this is incorrect, and you know the name of the series to which it belongs, please let us know.

Submit Series Details

Book Type:
Novel
Genre:
Fantasy
Sub-Genre Tags:
Awards:
Lists:
Links:
Avg Member Rating:

(0 reads / 0 ratings)
Synopsis
In this powerful and moving new novel by James Braziel, author of Birmingham, 35 Miles, a woman begins a harrowing journey of survival along a passage of terror-and hope....
They call it Snakeskin Road. An ever-changing network of highways, rivers, and forgotten trails, it's used by profiteers of a grim new traffic in human cargo. The catastrophic climatic changes that transformed the Southeast into a vast, inhospitable desert have left its desperate inhabitants with no choice but indentured servitude. Jennifer Harrison is among those destined for the farms, mines, casinos, and brothels of the midwestern "Free Zones." Carrying the unborn child of her deceased husband, Mathew, Jennifer hopes that in three years' time she'll be free to reach Chicago-and a world better than the one she is leaving.
Along with a thirteen-year-old refugee entrusted to her care, Jennifer begins a hazardous pilgrimage across a countryside of barricaded city-states, lawless camp towns, marauding gangs, and what's left of a corrupt government. But nothing she faces is more dangerous than a man named Rosser-a ruthlessly opportunistic bounty hunter determined to bring her back to Birmingham. In a world where hope is always a mile ahead, Jennifer has one last chance before the road disappears forever.
Excerpt
Chicago 2044
Delia took her hands and swept the edge of the bed, wiping away what few wrinkles were there, then sat down, and stared at the wall. There was no sound from the kitchen, no water coming up from the furnace, nothing from the apartments below, the ones boxed on either side, the one above, no sound except her cat, Pearl, footing into the room, wandering behind her on the white bedspread, paws catching in fabric. She looked from the edge of the bed to the south wall and listened to the absence pool around her until she could do it no more.
Her sister, Bobbie, was working. She worked all day as a city-state interpreter for Chicago, and stayed out evenings as much as she could, anything not to be lonely "like you," she admonished Delia with her long jaw set open, breathing in, waiting for a challenge. But Delia would just firm her lips, lock them shut. They had a lifetime of sisterhood behind them and had shared an apartment for nine years, yet seldom found ways to comfort each other. Bobbie's resentments of her older sister no longer made sense—with Delia at fifty-six and Bobbie at fifty-two, they were going the other direction, age now a liability rather than a privilege. Surely, her younger sister needed comfort, though she never said so and never offered. Delia did.
Sometimes in this silence, she heard her first husband, Everett, calling for her as if he were in the living room waiting, and simply wanted her company. But Everett had died in the clay mines at Bogalusa years ago when a thunderstorm brushed over him and drowned him. He was eighty feet down, buried in Mississippi mud.
Sometimes Terry, her second husband, called for her. He had always greeted Delia after his night-digging by gathering her up in his skinny arms, his hands too thin to hold anything right, lifting and lifting—what a skinny man should never have the balance and strength to do.
"Put me down. We're not kids," she had demanded. It was the kind of lift that hurt. But the moment he let go, Delia inhaled as deep as she could, trying to breathe him back closer. He could be standing right there, calling, "Baby. You so sweet, my baby," in that sing-sweep voice of his, scratchy, sweeping like a broom across the floor, and still be too far.
He died in Alabama, coughing up blood and clay, those skinny arms shaking. "I can't hold down my breath," he said to them, the other workers at the mine. "Help me breathe." But they couldn't, they told Delia, and they were sorry for his passing, So sorry, Mrs. Philips, as if apologies could erase his death, his voice, his touching her. She still held them responsible, and God.
Jennifer was the only one left in the Southeastern Desert—her daughter and Everett's daughter by blood, and every bit of Terry's child, too. After Terry passed, Delia migrated to Chicago, the Saved World, and moved in with Bobbie. Jennifer stayed behind to marry Mathew Harrison, a clay rock miner like both Delia's husbands. He worked the Alabama River.
"Why don't you come north?" she had pleaded. "The desert will never give you a fair life, Jen. It can't." That was nine years ago, 2035, and she hadn't seen her daughter since.
There was no communication allowed between families halved by the Saved World and Southeastern Desert except by letters. It had been that way since 2014 when the government created the border and patrolled it after a tear in the ozone and the dust-bowl winds refused to change pattern, to heal. The government censored what her daughter mailed to Chicago, and, she knew, what she sent down, but still Delia was able to make out her daughter's handwriting and enough of the sentences to know her girl was alive.
Most of the time, most every day, Jennifer's absence, the full length and shape of it, stretched north to south along the wall thinly, unbearably, weighted in counted seconds—one—fifty, three hundred, six hundred. Where was Jennifer exactly on the Alabama and Coosa rivers? Nine hundred, one thousand—What town? What home had she found to live in? Was she okay?—until Delia got tired of counting.
Jennifer had sent a letter in April, saying that Mathew's father had passed, and she would be coming to Chicago, that she would talk Mathew into it. There's nothing here for him now, Mama.
So Delia cleaned the spare room and bought her daughter a dress, a pattern of yellow and blue flowers, a spring dress, and laid it across the mattress, with yellow shoes on the floor, matching. Then she waited. It was too much to hope—that they would finally come. But every day for months she walked in and looked at that dress and shoes, saw Jennifer pick the corners up, lift it over her shoulders and down, shake out her long black hair, and smile. In the garden of that dress, all their distance gone—they could make amends.
Jennifer's last letter had arrived in June—she was taking the bus to Birmingham and from there, flying to Chicago. She had saved enough money and had her visa, but she wasn't sure if Mathew would come.
It was early November now, getting colder. She hadn't heard from Jennifer, hadn't opened the spare room since August, the dress flat and empty as the sheets. Bobbie said the room held too much loneliness and never went in.
Each day the new cold seeped into the apartment, into her room, and bedspread. By January the cold would fray her skin and splinter into her bones. Another winter Delia wanted no part of. She no longer even bothered to change out of her nightgown and robe.
Each day, after her breakfast and coffee, she walked back to the bed, pressed out its wrinkles, sat down, and stared into the wall, the flat taupe color, hoping for a letter, wondering where her daughter was. Delia had written and written, but Jennifer hadn't replied.
Someone knocked at the front door. It wasn't Bobbie—she had a key. Besides, it was too early for her. Maybe a package, or the landlord, or a neighbor. She hated it when the neighbors wanted to borrow something—sugar or shoes or a solar bulb. Just because she was home all day on a government pension, that didn't mean she was a hotel clerk.
Delia tied her robe and rubbed Pearl, who was bumping her head into Delia's hand for a scratch. The more she obliged, the harder the cat pushed until, "Okay, okay," Delia said to the knocking, and left the room, checking to see who was in the hallway—a woman—and opened the front door. It was a young woman, but no one's daughter in the apartment building she recognized, wearing a torn gray dress, her hair cut short like a man's peach fuzz. So thin, the cheekbones in her face had swollen against her sunken cheeks. The girl was shivering. Filthy.
At first Delia thought she must be one of the homeless. They snuck into the bottom apartments from time to time, especially when the richer neighborhoods had a street purge. One tenant had shot a homeless man asking for money in the entranceway. But this was the twenty-first floor. None of the homeless had gotten past the first floor and wandered up here. Then Delia saw it, the girl's arms wrapped tight around a black stationery box. It was the box she had given Jennifer before her daughter's wedding. I'll write every week, Jennifer had promised, and until June she had done just that.
"Who are you?" Delia asked the girl. This wasn't how the government told you about your dead, someone in tattered clothes carrying the deceased's belongings.
"I'm Mazy," the girl answered, reaching into her pocket. She brought out a crumpled sheet of paper and handed it over, then slipped back into the hall, a long stride back. Delia stepped toward her. She wasn't going to allow the girl to just leave.
"I can see the resemblance in you two," Mazy said. "All that hair." She smiled. "And that grace through your eyes and cheeks, how it comes out in the light. She comes from you."
"Is she here?" Delia asked, and stepped out further. She realized she was breathing faster and she stared down the hallway, its tunnel of light-shade-light, but there was no one.
"No, ma'am." The girl shook her head.
"Where is she?"
"I wish I could answer that, ma'am. I wish she was here now. She made me promise I'd come find you."
The drop in the girl's voice sunk into Delia's stomach, the hum of the words vanishing back into disappointment too familiar and numbing.
Mama, the crumpled paper read—
I'm not going to make it to Chicago today. But this is Mazy Elis. Take care of her—promise me that. She is only fifteen and has been in my care for months now. I hope I'll still get to you, but if I don't, here is my box, your wedding gift to me, I'm giving to Mazy until she finds you and gives you my letters. I have tried to send them and been unable. They are my last details, Mama, my last trace if I shouldn't get to Chicago. And Mazy, she holds traces of me. I have to get Mazy out now. Take care of her. Promise.
I love you, Jennifer
"What happened?" Delia said. "She was supposed to take the bus."
"The bus never made it to Birmingham," the girl explained.
"You knew her, then?"
"I knew her in Alabama and later in Cairo, Illinois. But I don't know where Jen is any longer. We got separated." The girl shook her head, kept looking off to the side, shivering, that dress ripped and frayed. There was dried blood and dirt on her legs and arms. "I'm sorry. I wish I could tell you. Wish I knew."
Maybe this last thing, her daughter not able to make it here, maybe this would be the thing to break Delia. How much longer could she keep staring at that wall each day, soundless, empty?
"I just want her to be here," Delia said.
"I understand. I want that."
Copyright © 2009 by James Braziel
Reviews
There are currently no reviews for this novel. Be the first to submit one! You must be logged in to submit a review in the BookTrackr section above.
Images
No alternate cover images currently exist for this novel. Be the first to submit one!