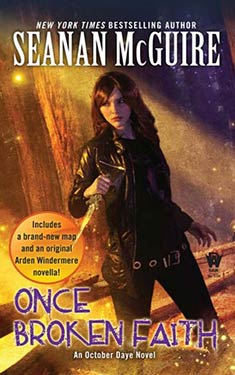 Synopsis
Politics have never been October "Toby" Daye's strong suit. When she traveled to the Kingdom of Silences to prevent them from going to war with her home, the Kingdom of the Mists, she wasn't expecting to return with a cure for elf-shot and a whole new set of political headaches.
Now the events she unwittingly set in motion could change the balance of modern Faerie forever, and she has been ordered to appear before a historic convocation of monarchs, hosted by Queen Windermere in the Mists and overseen by the High King and Queen themselves.
Naturally, things have barely gotten underway when the first dead body shows up. As the only changeling in attendance, Toby is already the target of suspicion and hostility. Now she needs to find a killer before they can strike again--and with the doors locked to keep the guilty from escaping, no one is safe.
As danger draws ever closer to her allies and the people she loves best, Toby will have to race against time to prevent the total political destabilization of the West Coast and to get the convocation back on track... and if she fails, the cure for elf-shot may be buried forever, along with the victims she was too slow to save.
Because there are worse fates than sleeping for a hundred years.
Contains the bonus novella Dreams and Slumbers, a direct sequel to Once Broken Faith, featuring Queen Arden Windermere.
Excerpt
No excerpt currently exists for this novel.
Reviews
Images
No alternate cover images currently exist for this novel.