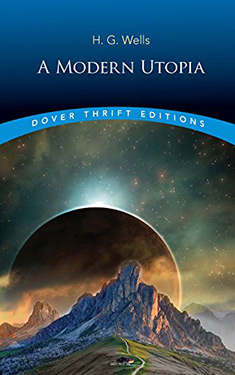 Synopsis
The premise of the novel is that there is a planet (for "No less than a planet will serve the purpose of a modern Utopia") exactly like Earth, with the same geography and biology. Moreover, on that planet "all the men and women that you know and I" exist "in duplicate." They have, however, "different habits, different traditions, different knowledge, different ideas, different clothing, and different appliances." (Not however, a different language: "Indeed, should we be in Utopia at all, if we could not talk to everyone?")
To this planet "out beyond Sirius" the Owner of the Voice and the botanist are translated, imaginatively, "in the twinkling of an eye... We should scarcely note the change. Not a cloud would have gone from the sky." Their point of entry is on the slopes of the Piz Lucendro in the Swiss Alps.
The adventures of these two characters are traced through eleven chapters. Little by little they discover how Utopia is organized. It is a world with "no positive compulsions at all... for the adult Utopian--unless they fall upon him as penalties incurred."
The Owner of the Voice and the botanist are soon required to account for their presence. When their thumbprints are checked against records in "the central index housed in a vast series of buildings at or near Paris," both discover they have doubles in Utopia. They journey to London to meet them, and the Owner of the Voice's double is a member of the Samurai, a voluntary order of nobility that rules Utopia. "These samurai form the real body of the State."
Running through the novel as a foil to the main narrative is the botanist's obsession with an unhappy love affair back on Earth. The Owner of the Voice is annoyed at this undignified and unworthy insertion of earthly affairs in Utopia, but when the botanist meets the double of his beloved in Utopia the violence of his reaction bursts the imaginative bubble that has sustained the narrative and the two men find themselves back in early-twentieth-century London.
Excerpt
No excerpt currently exists for this novel.
Reviews
There are currently no reviews for this novel. Be the first to submit one! You must be logged in to submit a review in the BookTrackr section above.
Images
No alternate cover images currently exist for this novel.