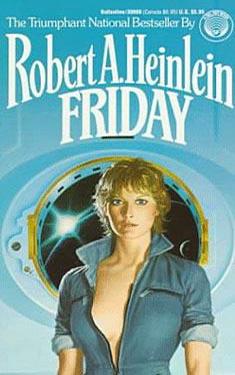 Synopsis
Friday is her name... She is as thoroughly resourceful as she is strikingly beautiful. She is one of the best interplanetary agents in the business. And she is an Artificial Person... the ultimate glory of genetic engineering.
Friday... not since Valentine Michael Smith, hero of the bestselling Stranger in a Strange Land, has Robert Heinlein created a more captivating protagonist... in a novel every bit as entertaining and exciting as this Grand Master of science fiction, now in his seventy-fifth year, has given us over his four-decade career.
Friday is a secret courier. She is employed by a man known to her only as "Boss." Operating from and over a near-future Earth, in which North America has become Balkanized into dozens of independent states, where culture has become bizarrely vulgarized and chaos is the happy norm, she finds herself on shuttlecock assignment at Boss's seemingly whimsical behest. From New Zealand to Canada, from one to another of the new states of America's disunion, she keeps her balance nimbly with quick, expeditious solutions to one calamity and scrape after another. Desperate for human identity and relationships, she is never sure whether she is one step ahead of, or one step behind, the ultimate fate of the human race.
Excerpt
No excerpt currently exists for this novel.
Reviews
Images
No alternate cover images currently exist for this novel.