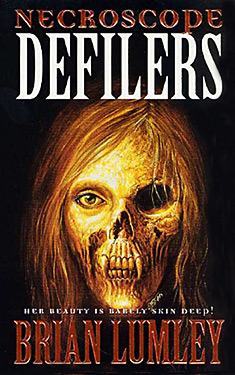 Synopsis
Jake Cutter is reluctantly learning how to be a Necroscope--how to use the Mobius continuum to travel instantaneously from place to place, how to talk to the dead--but dead humans don't like him much. It seems Jake's got a hitchhiker named Korath. Since Korath holds the key to the Mobius equations, Jake can't just kick him out... though he's certainly trying.
Jake's not sure he really wants to be a member of E-Branch, the supersecret ESP-powered organization that's dedicated to eradicating the vampire infestation of Earth. To the freewheeling, passionate Jake, the E-Branchers seem a little stuffy and hidebound--except for the lovely Liz, whom Jake wants to get to know better, body and mind. But Liz is a telepath, and if Jake's not careful, she'll find out about Korath. And that will likely be the end of Jake Cutter.
In Australia, Jake helped E-Branch destroy the aerie of the mind-master , Nephtam Malinari, one of a trio of Great Vampires who came to Earth from the vampire world. Malinari escaped and went to ground with the hideously beautiful Lady Vavara. Vavara has taken over a holy monastary on a beautiful Greek island and turned the nuns into most unholy creature with fearsome appetites for all things carnal.
Jake wants revenge against the Italian mobsters who killed the woman he loved and nearly killed him. As far as he's concerned, E-Branch can search for Malinari, Vavara, and the metamorphic Lord Szwart without him until he's satisfied his own bloodlust. But it seems vampire hunting is truly Jake's job now--the men he's trying to kill aren't men at all, but vampire spawn, hidden for two generations in human guise! To defeat them, Jake will need every weapon in a Necroscope's arsenal, including the power to all the unsleeping dead out of their moldering graves.
Excerpt
No excerpt currently exists for this novel.
Reviews
There are currently no reviews for this novel. Be the first to submit one! You must be logged in to submit a review in the BookTrackr section above.
Images
No alternate cover images currently exist for this novel.